Why our new partnerships with EOS and PostNord will further industrialize Metal 3D Printing
Earlier this year, we announced a strategic partnership with HP Inc., aimed at disrupting the global industrialization of additive manufacturing with a groundbreaking binder jetting technology. Last week at Formnext, GKN Powder Metallurgy announced two additional partnerships with the goal of further moving the manufacturing industry forward.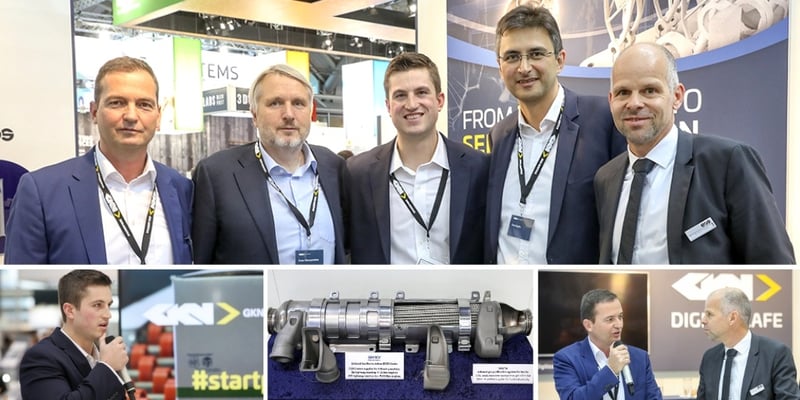 From left to right: Guido Degen, President Additive Manufacturing of GKN Powder Metallurgy; Peter Oberparleiter, CEO of GKN Powder Metallurgy; William Rixon, Product Development Engineer at Senior Flexonics, Uemit Aydin, Global Business Development Director AM at GKN Powder Metallurgy; Adrian Keppler, CEO at EOS
A new, high-productivity process for laser metal 3D printing
First, GKN Powder Metallurgy has formalized a partnership with EOS GmbH, the world's leading technology supplier in the field of industrial 3D printing of metals and polymers. This collaboration advances our goal of positioning metal 3D printing as a viable solution for manufacturers because of the expertise we each bring to the table. GKN Powder Metallurgy's innovative metal powder, EOS StainlessSteel 316L VPro, and EOS's unique process and additive manufacturing expertise make it possible to create a high-performance part, designed for end-use at scale.

We are adding our high productivity metal powder, using EOS processes and EOS expertise and our proven GKN finishing expertise. The outcome is a four times faster build rate. The automotive supplier Senior Flexonics is the first early adopter of the High Productivity AM Laser process of EOS and GKN.
The automotive and industrial industries have embraced additive manufacturing as a way to rapidly produce prototypes and small jigs and fixtures. But GKN Powder Metallurgy believes there is true potential for end-use parts to be created at scale through metal 3D printing. Our partnership with EOS underscores that belief. Our new metal powder, EOS StainlessSteel 316L VPro, designed for the new, high-productivity process for Selective Melting (SLM), will reduce production time by nearly 70 percent and overall cost by 50 percent. Our customers know that speed and cost are key benefits to metal 3D printing, and this partnership delivers on those needs.
Distributed manufacturing for the Nordic region
Our second partnership, also announced at Formnext, speaks to the importance of supply chain efficiency. If our customers are able to make parts quickly, and more efficiently but run into logistical constraints, but they cannot get those parts to their customers, the benefits of 3D printed parts are lost. For this reason, we have partnered with PostNord AB, the leading supplier of communication and logistic solutions to, from and within the Nordic region. Our aim is to empower global manufacturers to optimize their part supply chain with streamlined logistics that make it easy and fast to get parts where they need to go in the Nordic region.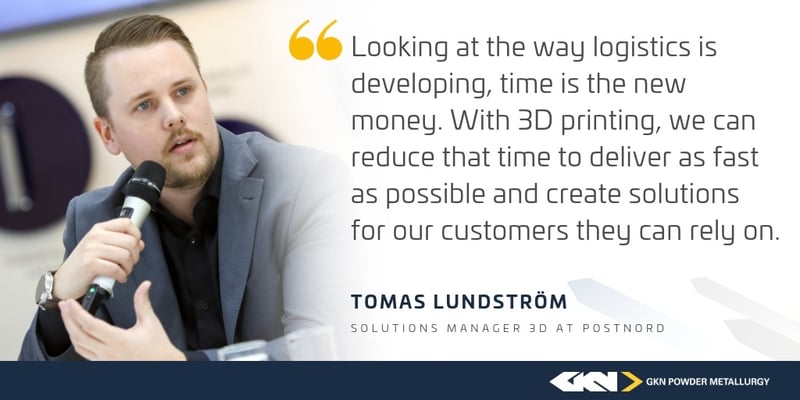 Customers will benefit immediately from this collaboration, reducing part turnaround by nearly two business days, critical time in the manufacturing industry. Collaborating with PostNord AB bridges the logistics gap we see in the marketplace and ensures that 3D printed parts get to manufacturers efficiently and on time.
Partnerships such as these will continue to move the additive manufacturing process into the forefront of every factory in the world, positioning GKN Powder Metallurgy as a leader in the industrialization of metal 3D printing.