The power of collaboration: How GKN and HP created a complementary partnership by leveraging strengths
At GKN Powder Metallurgy, we believe collaboration is the key for mutual growth. When we listen, understand and share ideas. Shared passion helps generate breakthrough innovations that have the power to change the world.
In 2018, we officially joined forces with HP Inc. to drive the global industrialization of Metal Additive Manufacturing. With its historic reputation, HP fully understands the power of innovation and collaboration: both deeply rooted in the company's DNA since Bill Hewlett and Dave Packard founded the company in 1939.
I spoke with Tim Weber, Global Head of 3D Metal at HP, on how HP and GKN Powder Metallurgy created a successful partnership by learning to leverage each other's complementary strengths and expertise to innovate faster.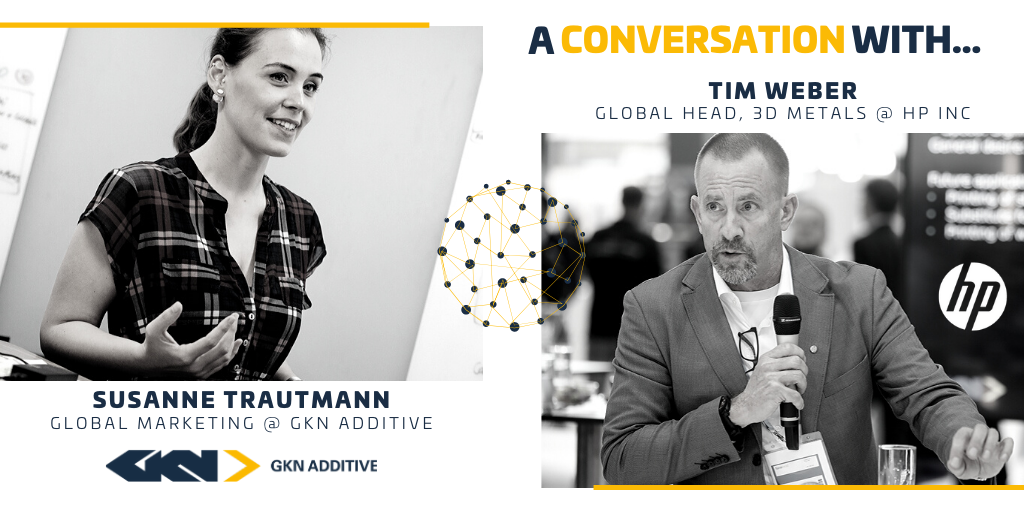 Looking back, what was the most important factor that pushed HP to develop HP Metal Jet?
Years ago, we put a very lofty goal in front of our team. We knew if we wanted to get into metal 3D printing, we'd have to be disruptive and at least 10X better on cost and performance. So, we asked our team to create a system with low cost and high manufacturing quality and said, 'if you can develop this, then we will make a business out of it.' They came back with the blueprint for what has become HP Metal Jet. That was step one – spark innovation with a very clear goal in mind for what it would take to make things happen.
The second step – and this goes back to conversations we had with the GKN Powder Metallurgy management team a year and a half ago – was to find a partner that had strengths that complemented our own. We wanted to collaborate with an organization that had a deep expertise in sintering and metal materials.
GKN Powder Metallurgy is this complementary partner. They are producing millions of metal parts, know everything about materials and have the infrastructure; together we're advancing the technology much faster than if we were to have done it ourselves.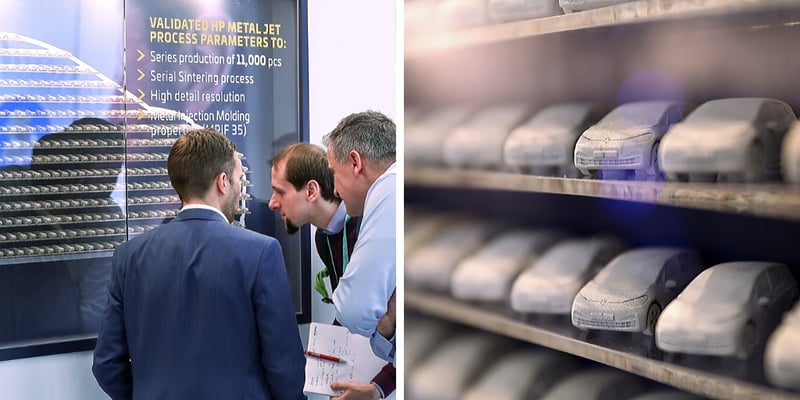 Volkswagen has partnered with HP and GKN Powder Metallurgy to test the limits of HP Metal Jet for mass production. In October 2019, the automaker launched the production of its newest generation of electric vehicles. These commemorative ID.3 models, displayed at HP's stand at Formnext, were printed and sintered by GKN Powder Metallurgy. With 11,000 pieces produced, it is one of the largest series manufactured so far with the HP Metal Jet process.
Would you say this is HP's formula for success? To recognize what you're good at and to understand where you need support?

You know, I've been working at HP for 25 years and we know how to take advantage of our strengths and work with leading partners around the world who bring forward complimentary innovation.
How does HP create an environment where creative ideas can thrive?
I think it goes all the way back to our founders Hewlett and Packard: they always encouraged constant investigation by all employees from interns to middle management to executive leadership to drive innovation. I also carry the philosophy that every employee on my team should be working on something they don't know about. This enables a culture of innovation and empowerment. This original culture still lives strong in our organization.
Let's talk a bit more about HP and GKN Powder Metallurgy – why is their combined skill set a recipe for success?
I think there are multiple things - first and foremost, we are very complementary. HP is the best printing company in the world and GKN is the best powder metallurgy parts provider. We each bring unique knowledge sets– we're better together.
Our teams also share a similar culture and values. As we move ahead, we work transparently with each other and agree as a management team to be strategically aligned and create combined working teams.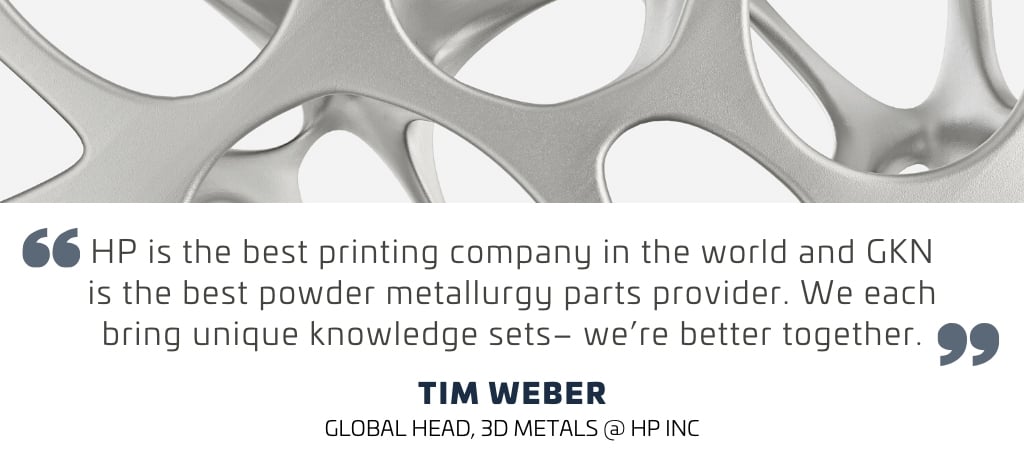 Recently I talked to Guido Degen, President of Additive Manufacturing at GKN Powder Metallurgy. He explained that the key elements to unleash the disruptive potential of AM are accessible processes, cost reduction and additive thinking. Do you agree? How can HP Metal Jet help to push the boundaries for costs and processes?
Well, I think there is one thing that is key: You need to have an economic way to mass produce metal parts using binder jetting technology. 3D laser systems have been around for 25 years, but they've made very little progress except in areas of really high value, like aerospace and titanium.
Now with HP Metal Jet customers can take advantage of all the benefits of additive manufacturing, like innovative designs for heat transfer, fluid dynamics, lattice structures, light weighting, velocity absorbers and vibration control. These can all be cost effectively built into your part. The other significant element of successful mass production of 3D printed metal parts that GKN talks about is industrial-grade process control, and it is critical. We believe that is a proven capability that GKN brings to this partnership, a tremendous advantage they bring to customers looking to disrupt their business with digital transformation using HP Metal Jet.
Where do you think we will be in one year from now?
It's been a great journey so far and we're on track with our strategy. HP Metal Jet is up and running at GKN Powder Metallurgy and as the usage continues to grow engineers are working with OEMs to identify entirely new, industrial-grade applications. With HP Metal Jet deeply ingrained at GKN and the now continuous learnings we're getting from engineers and customers, we will continue to push the boundaries of our partnership.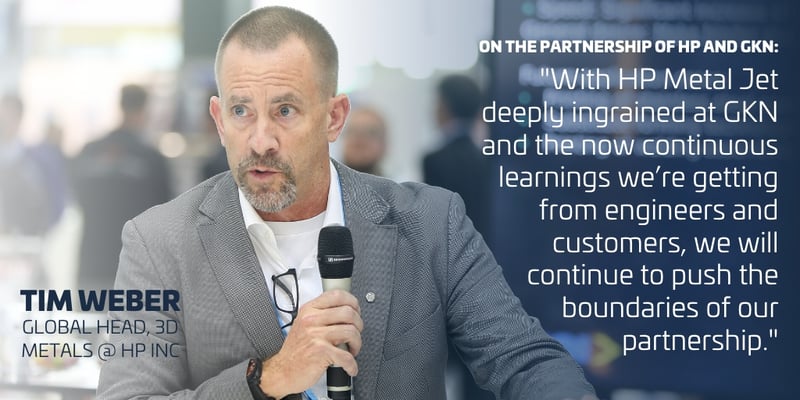 How much of a future vehicle will come from a printer like HP Metal Jet?
I think over time the number of 3D-printed parts in vehicles will continue to grow. This is the case across many different industries and use cases. Initially it will be where the economics work: applications with a volume of fifty or a hundred thousand parts per year. Over time the parts will start to get bigger and we'll continue driving even higher productivity and material breadth.
The Metal Jet technology is scalable. At HP, they have 2D printers that are three meters wide. You can start to build things in ways you've never have before, based on additive thinking. I think the progress our companies have made in the past 12 months is an indication that the opportunities ahead are unlimited.