Soft magnetic composites unveil lightweight potential for integrated E-pumps
Automotive electrification continues to progress with the development of hybrid and all-electric drivetrain concepts to replace mechanical or hydraulic subsystems with electric solutions. In 2017. more than 70 percent of pump systems in newly released vehicles were expected to be electrically driven, and tightening CO2 emission targets will accelerate this trend further.
Working with our customers, we recognized a strong demand to reduce size and weight in those systems. Customers´ requirements started making our engineers brainstorm how functional integration and our advanced material knowledge could provide better solutions for these applications. This included the demand to reduce assembly efforts for all pumps, from oil- to urea- and water pumps in line with e-motors.
Today we'll talk on one of our latest solutions for automotive electrification, which is gaining attention by OEMs and tier one system manufacturers with their approach to reduce weight and, ultimately, CO2 emissions.
The SMC axial flux transmission lubrication pump
Soft magnetic composites (SMC) are a special iron powder material consisting of soft magnetic particles with an electrically isolating coating that remains active even after pressing and curing. The material reduces the formation of eddy currents in alternating field applications like e-motors.
That, in combination with the extensive design opportunities from the PM compaction and curing process, enables a new approach to develop compact e-motors that can combine with different pumps. One of the most impressive results from this approach is our concept for an integrated axial flux motor oil pump used for transmission lubrication.
Stefan Tiller, one of GKN's engineers involved in the concept development from the start, explains the simple idea: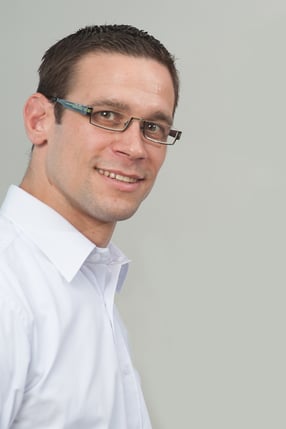 "Working with our customers, we saw belts being replaced by e-motors, but still getting flanged to gerotor pumps using complex assemblies. As a result, both elements contained parts like shafts and bearings that could be reduced if they were combined in one design.
We wanted to integrate both key elements and find out what we could do better using our PM materials and the Design for Powder Metallurgy (DPM) approach."
Working on the idea, our Advanced Products engineering team made the best use of GKN´s comprehensive R&D capabilities. Processes involved 3D magnetic field simulations to prototyping, bench testing of volume streams, pressure, volumetric and mechanical efficiency and power intake, over to technology validation and serial production design.
Integrated design, less weight and more benefits
The integrated design creates several advantages. The obvious key benefit? Less weight. Evaluating our concept against a market-leading serial product has proven a net weight reduction of 15 percent in GKN's product.
There lie more advantages than weight savings:
Smaller build-size: the optimized component geometry of the pump and e-motor rotors forces reductions
Full scalability in radial and axial direction to adapt to pump and motor capacity
The optimized system design also allows for leaner assembly processes
Less materials mean better tolerances and efficiency through the pump's load cycle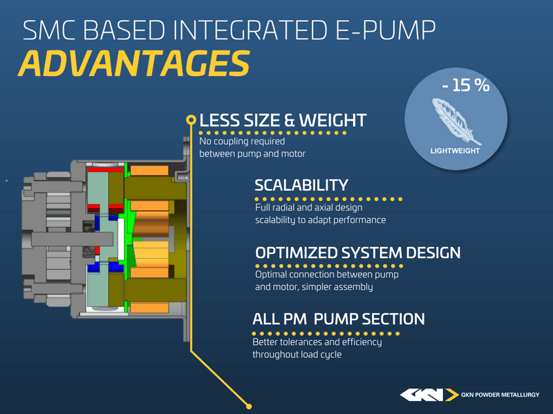 And there is more to come: by fully deploying GKN's extensive knowledge in advanced press technology and lightweight materials, our engineers have already started to enhance the included electronics module to an aluminum PM heatsink. The heatsink technology perfectly matches the need for clever heat management in the growing number of electrified systems in a car.