Researching the future: 3 reasons to partner with a University
What started as a collaboration idea has now turned into a successful 17-year partnership between GKN Powder Metallurgy and research-intensive Dalhousie University's Graduate students for innovative developments and research.
In 2001, Dalhousie Professor Dr. Paul Bishop lead the charge for a satellite facility on the school's campus to support aluminum powder metal research, with support from GKN Powder Metallurgy. Since then, our Advanced Engineering team has collaborated with the Graduate students on multiple progressive research projects, including the groundbreaking development of our Aluminum Metal Matrix Composite (MMC) material.
To stay an industry leader and recruit top talent, we utilize our partnership with Dalhousie University to its full potential for ongoing research and development in both conventional powder metallurgy and our emerging technology in Additive Manufacturing.
Here are our three top reasons to partner with a University, as we continue to research the future with Dalhousie: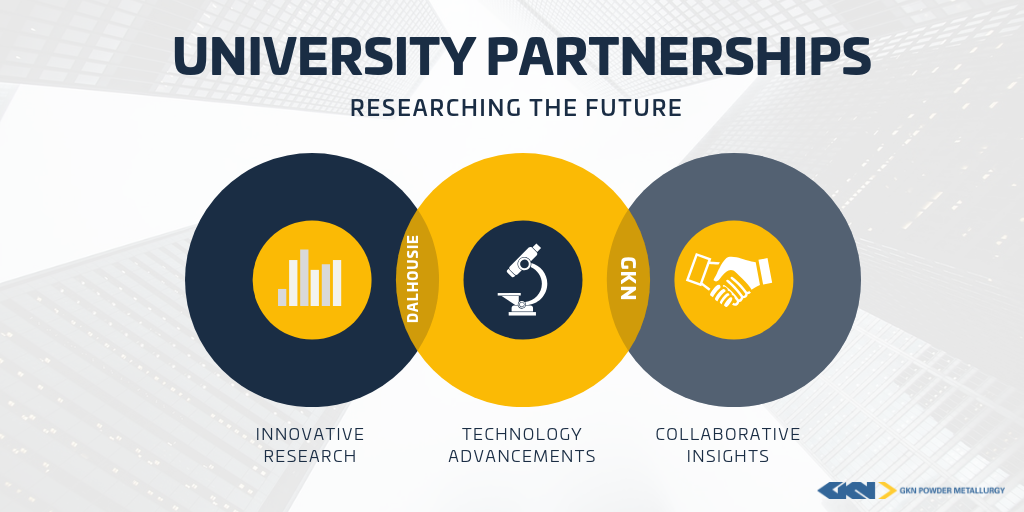 1. Conduct Full Spectrum Research from Next Generation Materials and Day-to-Day Operations – all at the same time
How do you progress future developments, while still maintaining current operations? With Dalhousie University, we are creating developments that are at the leading edge of aluminum powder processing. We take our insights in the industry and work with the experienced Graduate students to bring new advancements to the market.
Our Aluminum MMC material showcases how a collaborative University partnership can bring an idea to serial production. During the material's development process, Dalhousie created a system familiar to GKN Powder Metallurgy's operations that utilized the essential powders to sinter a close to full dense condition with its attractive material properties.
This development was a key initiative in our partnership: the system created a high strength, nearly full dense material; creating an ideal matrix for our Aluminum MMC material that is now commercialized in serial production.
The Aluminum MMC material, a one-to-one substitute for steel, is a lighter weight alternative holding a high strength and creating a high wear resistance. Advancements don't stop there, though. Now we are working with Dalhousie to produce even greater strength and durability through alternative powder metallurgy processes, and refine day-to-day processing of the Aluminum MMC material to increase process robustness and decrease production costs.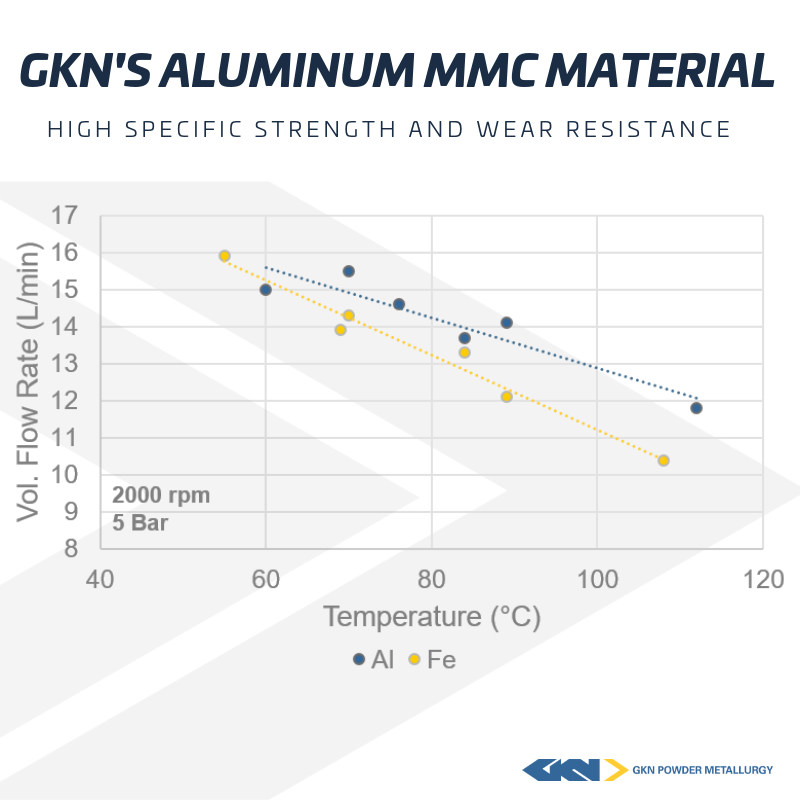 "We are continuously trying to push the boundaries of what's possible with GKN Powder Metallurgy," said Dr. Bishop, who fore-fronted this collaboration 17 years ago. "There is great momentum with the initiatives' success and the relationship between the students and the employees has grown immensely."
2. Find your future talent
Conducting ongoing research with the Graduate students of Dalhousie has provided us the opportunity to work with the industry's next top talent – and bring them onto our team.
Through our collaboration, four students have come to work at GKN Powder Metallurgy full time. Because of the close-knit initiatives, students are given real-world experience as they conduct research for real-world and short-term application programs.
Logan Smith, Electrification and Lightweight Applications Engineer, started his journey with GKN Powder Metallurgy as a Graduate student at Dalhousie University. He was involved in research leading to the developments of our Aluminum MMC and TC2000 materials, both brought to serial commercial production.
"This collaboration gives you a tangible, real world example of what you do in the powder metal industry as an engineer," Smith said. "It's a reassuring feeling when you see a company take the research that you've conducted and apply it to new applications and products."
Our engineers from Dalhousie have extensive knowledge of our systems and technology, making a seamless tradition from their Graduate program to a position in GKN Powder Metallurgy.
"There's obviously a learning curve, but I think I came in with a better understanding of my job function than most new employees do," said Bryce Christensen, hired in full time after completing his Graduate program at Dalhousie.
3. Create the future without forgetting the present
With a present 15:1 return on investment ratio in our collaboration with Dalhousie, we still push to progress the future with Additive Manufacturing technology and conventional process improvements. By collaborating with Research students at Dalhousie, we build their real-world application experience while developing the technology solutions for current and future market challenges.
Creating exceptional thermal conductivity, our TC2000 Aluminum material was developed with Dalhousie as the powder metal counterpart to commercially pure, wrought aluminum. We worked collaboratively with Dalhousie to develop the material's thermal conductivity properties, fitting properly for heat sink applications.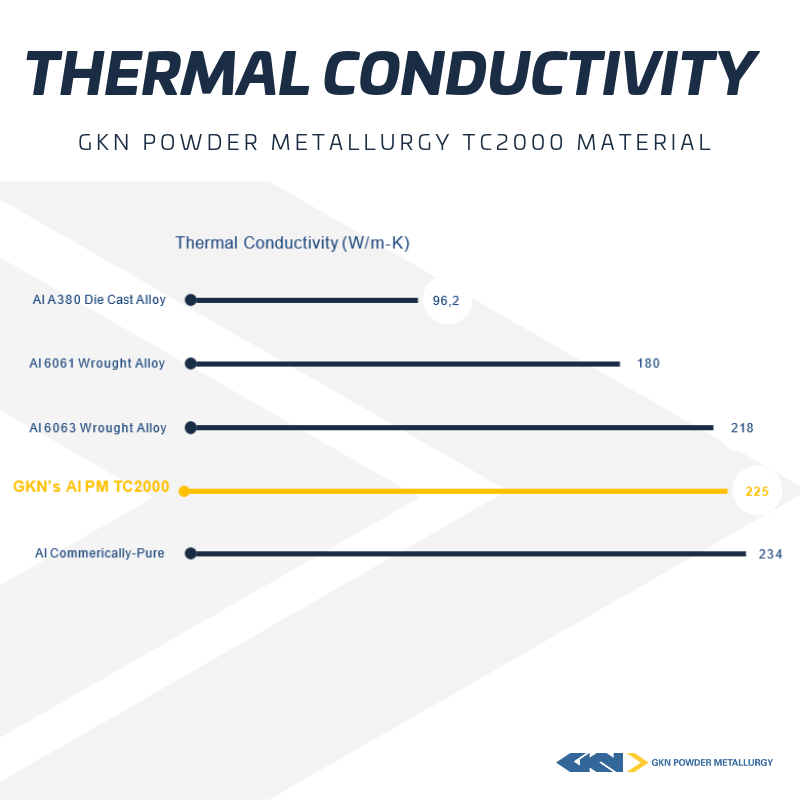 This short, four-year full development time showcases the effective results of a University collaboration committed to the students and real-world application research.
Through our years of partnership with Dr. Bishop and his team, we have jointly published 26 journal articles, 17 full-length papers presented to the Metal Powder Industrial Federation and received two 'outstanding technical paper' awards.
With the help of the Dalhousie collaboration, GKN Powder Metallurgy has been able to establish itself as one of the leading supplier of Aluminum MMC materials in the world by introducing advanced lightweight components for automotive applications.
Alan Taylor, Director Lightweight Technology, said: "As this collaboration continues to evolve, even more opportunities are likely due to advancing work on forged Aluminum MMCs and Additive-manufactured Aluminum MMCs."
"Years of collaboration and hard work have put us in a position where we have great momentum in aluminum-based developments," Dr. Bishop said. "Coupling this with the forthcoming influx of new research equipment, we now have a pivotal opportunity to explode this to the next level."
You can find more developments on our Aluminum technology here, or connect with our experts directly.