New websites for GKN Powder Metallurgy and GKN Sinter Metals: What has changed?
This is an exciting moment for us that we've anticipated for months. Our new website has been launched today. To us it's way more than just a launch – we've completely rebuilt our site, its structure and functionality from scratch.
But wait – we did actually launch two websites today: the new GKN Sinter Metals website and the GKN Powder Metallurgy website. GKN Powder Metallurgy is one of GKN plc's three divisions, withGKN Driveline and GKN Aerospace. It comprises the two sub-divisions: GKN Sinter Metals and GKN Hoeganaes. So far we haven't had a Powder Metallurgy website yet and hope that you'll now better comprehend how the PM division and its subdivisions are connected with each other: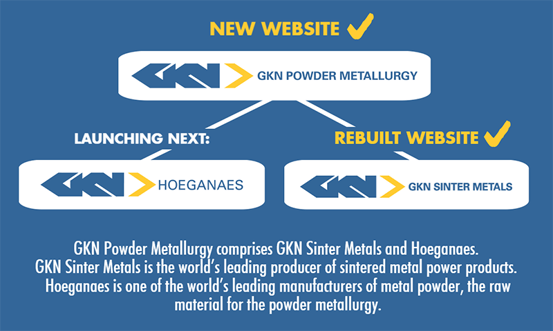 In my last blog post I've shared the Top 4 lessons we've learned during our website redesign process. Today I want to point out what is different between our new site and the old one. Okay - for the first time you can now...
1. PERSONALLY CONTACT GKN EXPERTS OF ALL OUR CORE TECHNOLOGIES AND INNOVATION KEY THEMES
We want to make sure that you'll receive the best support to your individual needs. Therefore we've set up individual contact pages for:
Additive Manufacturing, Lightweight Aluminum Technology, Hydrogen Technology, Industry 4.0, Electrification, Conventional Powder Metallurgy, Metal Injection Moulding and Porous Metal Filters.
2. BROWSE THROUGH THE MARKETS WE SERVE
Traditionally the automotive industry is the largest market for powder metal components. But behind the scenes PM is already a huge part of our daily lives - you'll find our components in countless appliances throughout all kinds of industrial and consumer markets. In the new website we start to introduce you to some of them:
3. UNDERSTAND WHY WE ARE MORE THAN JUST A MANUFACTURER OF PARTS AND HOW WE PUSH THE BOUNDARIES OF WHAT'S POSSIBLE
When you start browsing through our new pages, you'll get an idea at who we really are and how we positively impact the world around us. This time we put a strong focus on telling our story as a company and reflecting our core values. We'll show you the faces behind our technology and innovation, our path for the future, but also our roots and difficulties we have overcome.
But what ultimately has changed most is our mindset. We consider the new site as living MVP, a Minimum Viable Product that goes live with the goal to give you a great user experience and will deliver the right solution for your problem quickly.
But we're clearly separating the wants from the needs and just focus on adding value through necessary functions and relevant content. Once we understand how you interact with the site and understand what you like and don't like we will iterate the pages until they achieve full impact. And now it's time to explore our new site yourself...