6 things you should know about customer service, from a materials expert
By finding the right powder supplier, you're putting yourself on track to succeed in additive manufacturing. In a previous post, we shared four tips on how to select the powder supplier for your production. When you're selecting a supplier, don't downplay the importance of a mutually beneficial partnership. At the heart of customer-supplier relationship success is excellent customer service. With an inside perspective, my colleague Debbie Mitchell is now sharing insight on the role customer service plays for a powder supplier and how to grow meaningful customer relationships.
Click here to learn more about metal powders for Additive Manufacturing.
Debbie brings over 35 years of experience as a materials expert, working with customers on order entries, arranging shipments and exporting goods. As our AM Materials business has continued to grow over the past years, Debbie became the North American Customer Service Representative for the AM Materials group.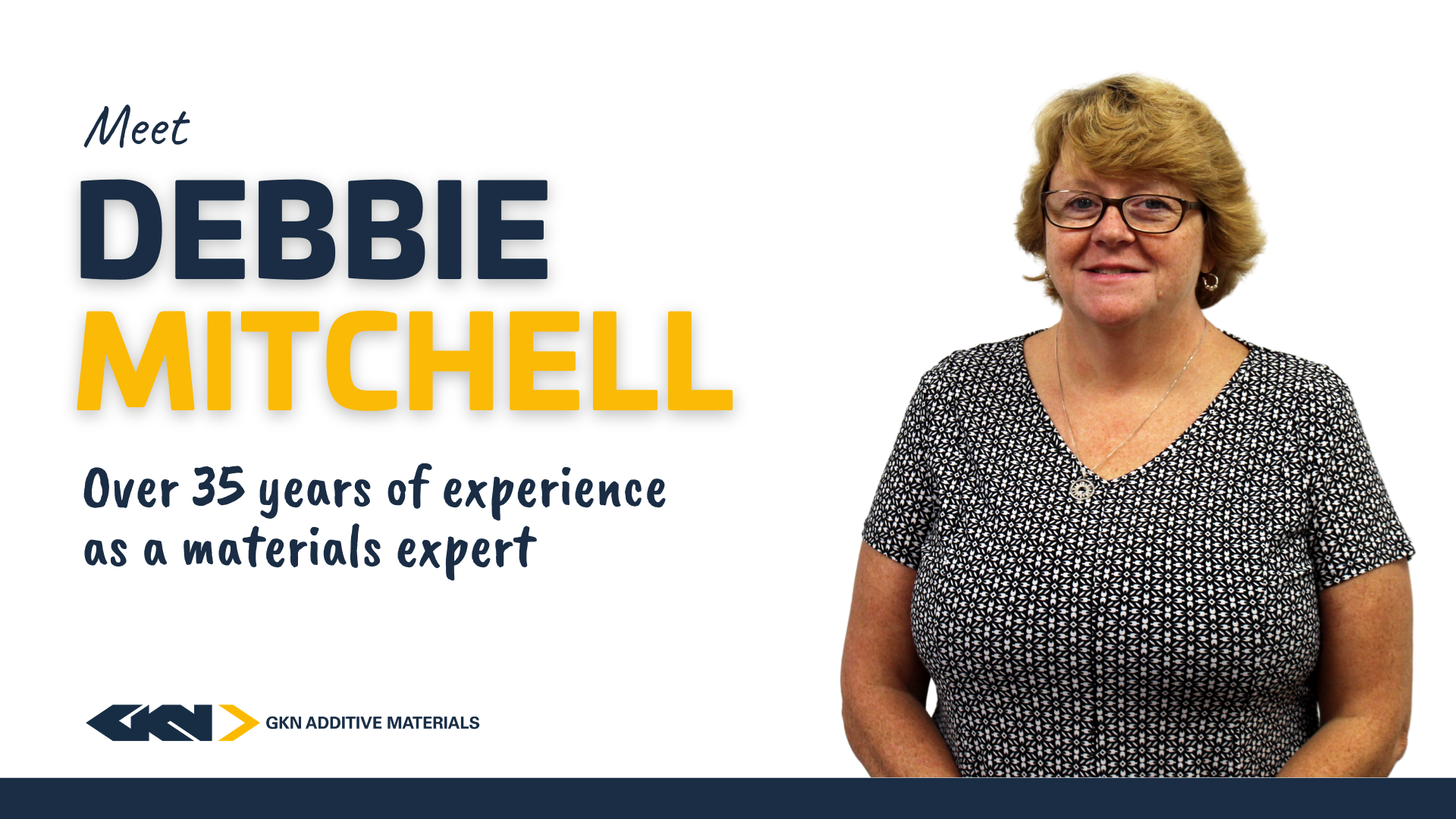 Let's start from the beginning: What happens when a customer places a powder order?
When we receive purchase orders, I help our sales team review the information for accuracy and completeness. If there is an issue or error with a purchase order, I contact the customer directly to have this corrected in a timely manner.
If the purchase order is from a new customer, I work with our team to have the customer approved and established in our internal systems as a business partner. The next step is to process the order into our system and verify that inventory is allotted correctly and that we can generate an accurate lead time with a ship date. If the material is not in inventory at the time of the order entry, it means we need to notify manufacturing so they can schedule the production of this material in our facilities.
What goes on behind the scenes while the customer waits for their order to ship?
Once a material is produced, a lot number is generated and the inventory is created in our system and all the raw materials that go into the product are logged. Once the quality testing is completed, I allocate the lot number to the customer's order and process the material to shipping. This generates the proper shipping documents and allows me to contact the carriers and organize shipping.
Once the materials are shipped, I can confirm this information in our system, which allows our Accounts Payable team to invoice the customer. The last step is to contact the customer to provide them a tracking number for their shipment with estimated delivery date as well as the material's Safety Data Sheet and Certificate of Analysis for their order.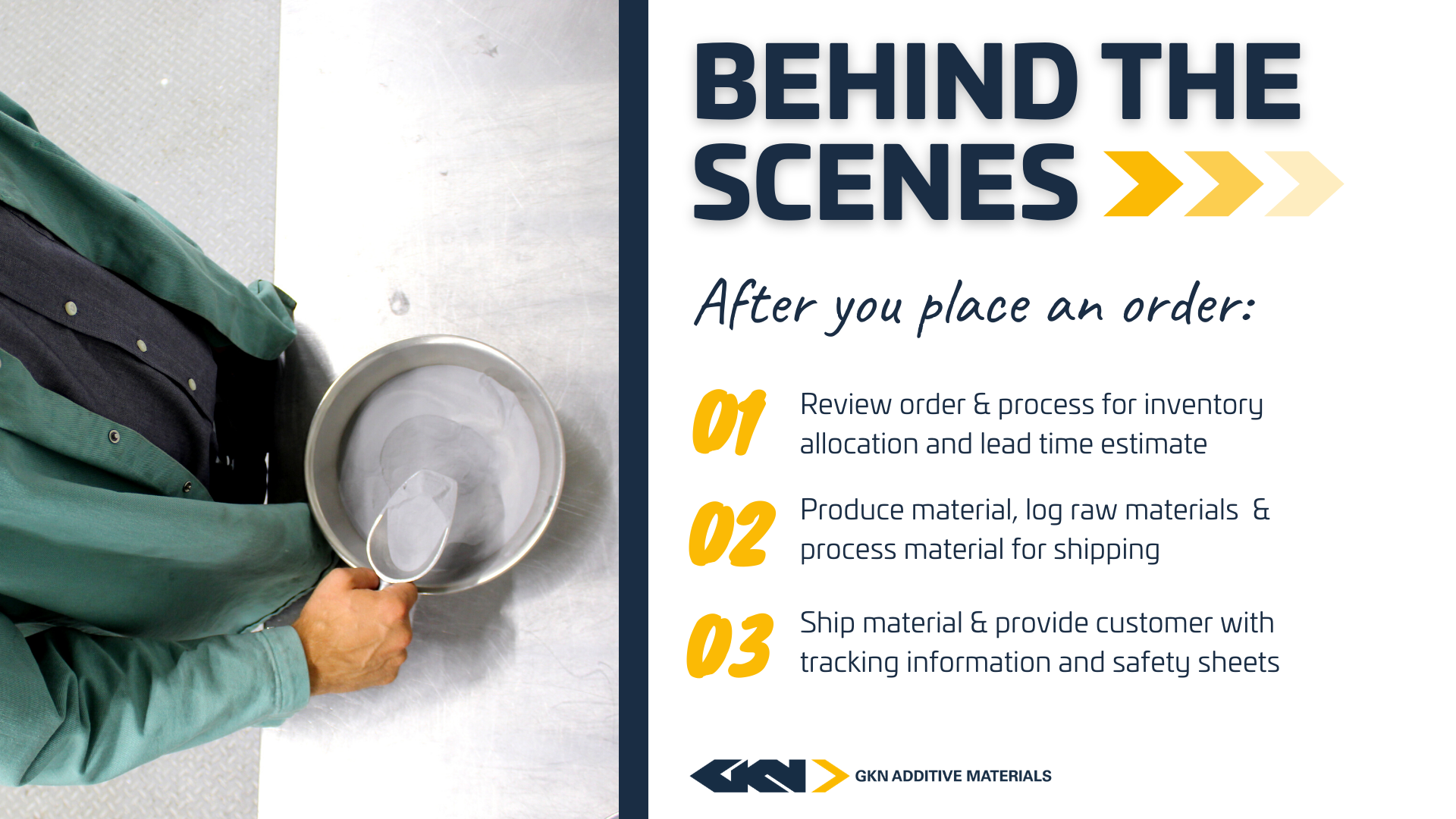 Let's talk about delivery times: Is there a difference between in-stock powder and customized material?
For customers we have worked with in the past, we are able to ship standard, in-stock materials in a day or two from when the order was placed. For new customers, the additional steps of establishing them as a business partner in our system may take one to two weeks. Once that happens, we can ship out materials from inventory.
This process can take another one or two weeks, depending on a few things:
Coming to an agreement to payment terms with the customer
Obtaining any required documents and information from the customer
Receiving accurate purchase orders and additional documentation
Shipping lead times for non-standard products or larger orders depend on a few aspects:
The material's alloy type
The quantity the customer requires
The scheduling of production time
If we receive a request for a custom alloy, there may be additional factors that will impact shipping timelines.
If a customer is in a pinch, do you have a recommendation for reducing lead time?
One great way to reduce your lead time is to order materials in increments of 20 kg. These quantities ensure there is no repacking fee or additional time needed before we can ship.
What happens when a customer needs urgent support?
I take great pride in helping our customers get what they need when they need it. Sometimes documentation is lost in transit or customers request a copy of the Safety Data Sheet for their records. No matter the situation, I am available: I help any way I can by providing any information and responding to requests.
For returning customers purchasing repeat orders, I am able to process orders directly without adding in the extra step of involving the sales team. This allows for much quicker order processing and ultimately leads to shorter lead times.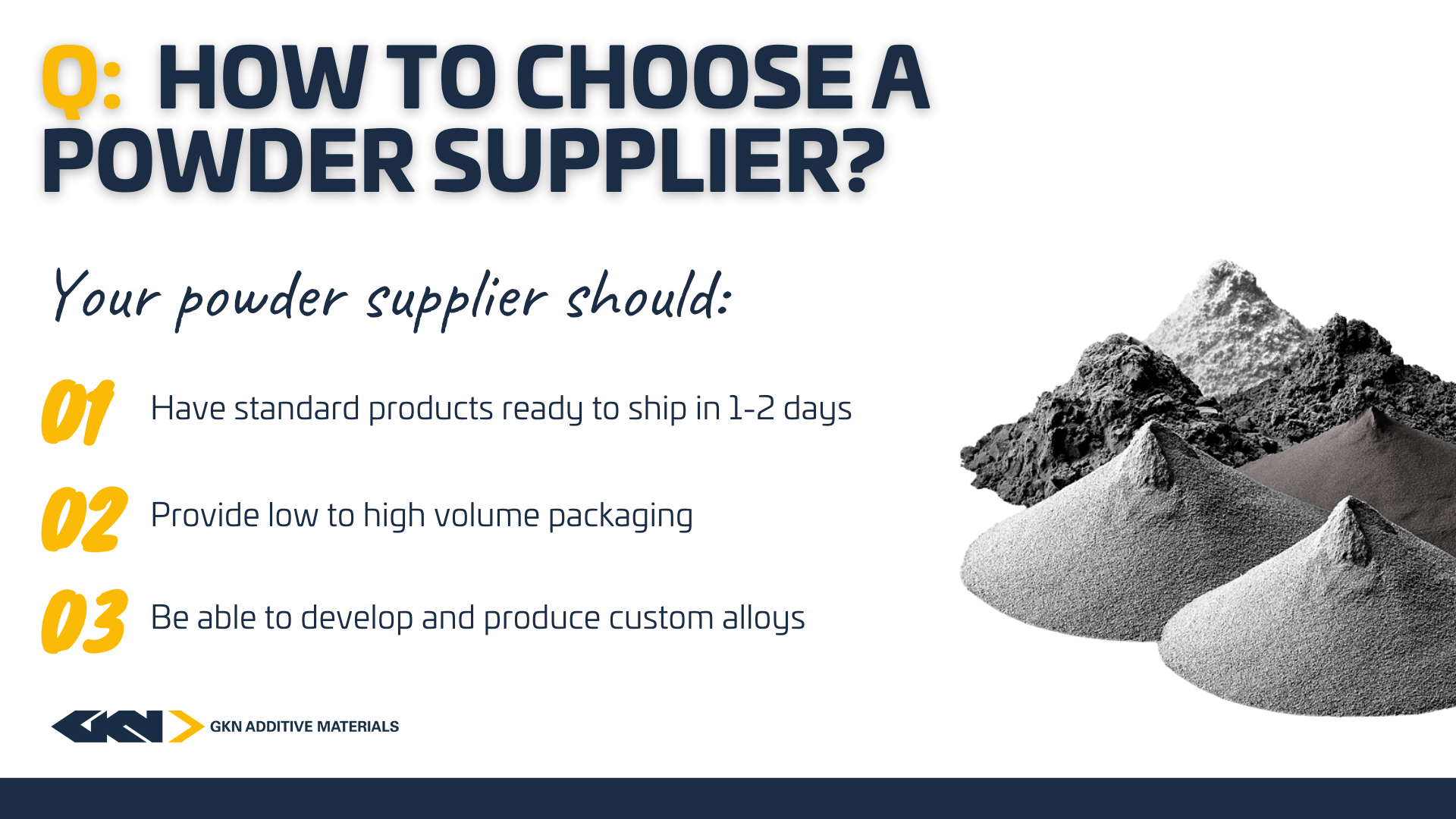 When a customer is considering a powder supplier, what should they keep in mind?
There will always be a few qualities that separate average powder suppliers from quality partners. Customers should look for these capabilities from a supplier:
The supplier should have standard products ready to ship within a day or two. This helps customers with production by being able to fill the increase in demand.
The supplier should provide low to high volume packaging, standard 20kg metal pails, and 200kg bulk pack options.
The supplier should be able to produce custom alloys to meet demanding application developments. These alloys should match existing materials used for manufacturing techniques.
Give us the inside scoop: Will GKN Additive Materials release any new standard materials this year?
As the additive manufacturing industry shifts from prototypes to serial production, we have developed three materials to support growing market segments in the automotive, industrial and consumer goods industries. These materials are available in both laser powder bed fusion (LPBF) and binder jetting particle sizes to help support low to high production quantities.
Water-atomized dual phase low alloy steel
Water-atomized stainless steel
Water-atomized low alloy steel
When it comes to developing new alloys, the supplier's equipment is key. With our R&D scale gas atomizer we can produce small batches of custom alloys with argon or nitrogen gas. For larger volume orders, our EIGA atomizer is utilized to produce high purity material.
After 35 years in the powder business, what do you think is the best part about your job?
I enjoy the interaction with our customers, whether that's building relationships with them, processing purchase orders, troubleshooting or expediting orders. I love being able to help in any way I can to ensure that they have what they need.
Click here to explore your material possibilities with GKN Additive Materials.