How we implement Binder Jetting with HP: key updates and insights
Three months ago, we revealed our new strategic collaboration with Hewlett Packard (HP) at IMTS 2018. Together we are working toward the ambitious vision of empowering the industry by making metal 3D printing of final parts cheaper and faster worldwide. But what's happening now after the announcement? How do we drive the industrialization of HP Metal Jet?
I talked to my colleague Simon Hoeges, Director of Additive Manufacturing at GKN Powder Metallurgy, and Michael Monroe, 3D Printing Development Engineer at HP. Both are working closely with their teams to deploy HP Metal Jet at GKN Powder Metallurgy.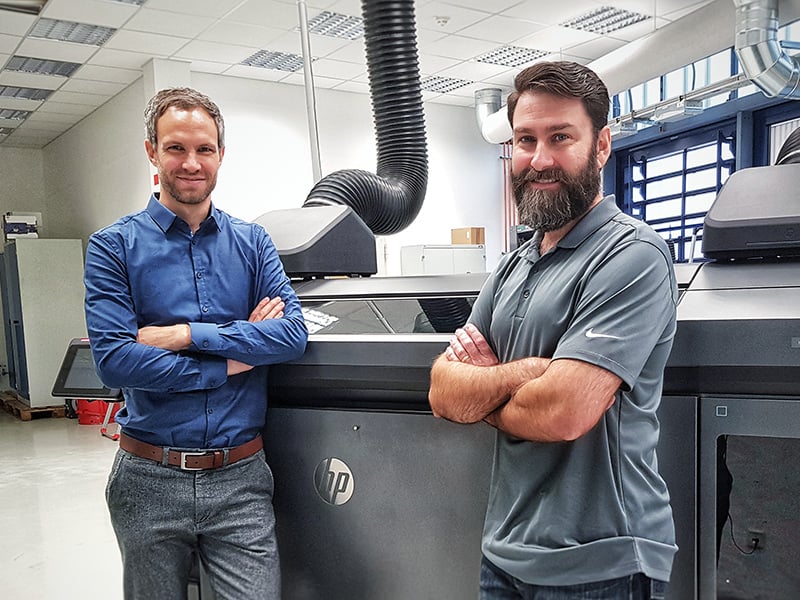 Simon Hoeges from GKN PM and Michael Monroe from HP work closely together to deploy HP Metal Jet
GKN Powder Metallurgy is the only manufacturer using the new HP Metal Jet Process within the automotive and industrial markets until the technology becomes generally available in 2020. We have installed the first printer in our Innovation Center in Radevormwald, Germany and are now starting to produce functional metal parts for Volkswagen (VW) and WILO, the early adopters of this groundbreaking technology.
A critical learning opportunity
Michael, together with your family you recently moved from HP's site in Oregon to Germany. Why is it so critical to have you present at our Innovation Center?
Monroe: HP is looking at this partnership as a critical learning opportunity. It is important to have an experienced engineer over here to make sure that the first printers run correctly and provide parts for GKN Powder Metallurgy and its customers. I am also trying to learn as much as I can on the entire end-to-end process of making the parts, measuring the parts, sintering and post-processing them.
What do you still need to learn that you don't know today?
Monroe: HP is very interested in understanding the applications and critical requirements of the first printed parts. So, I am really interested in figuring out the level of dimensional control that is required to open up different market segments. We have some amount of dimensional control today, but we are continuously improving and want to make sure we are making as many parts in our area of capability sooner than later.
Simon, what was the feedback you received from GKN Powder Metallurgy's customers after the announcement of the collaboration with HP?
Hoeges: Everybody is seeing the high potential in terms of speed and productivity. This partnership is a great fit for GKN Powder Metallurgy as well as for HP because our combined capabilities fit perfectly to develop this technology.
We also received a lot of requests from existing and new customers who read the announcement and are very interested learning more about binder jetting. The most frequently asked questions are 'what is the difference from Laser AM?' and 'what are the advantages and disadvantages?'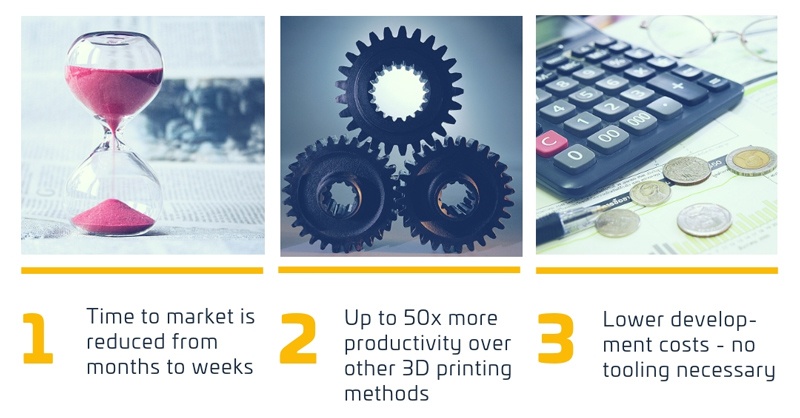 Compared to Laser Powder Bed Fusion, Binder Jetting offers many advantages - here are just a few of them
What was the common concern you heard?
Hoeges: "Oh – it's a sintering process! What about density?" This is a concern we need to address. For us, it is very important to characterize materials to gain more trust in the technology. I think this is our biggest task now: growing trust in the technology. In conventional sintering technology we are already producing 13 million parts every day!
Material development for binder jetting
What is the largest competitive advantage that binder jetting has today over laser melting?
Monroe: Our printers focus on increasing productivity. Our productivity today is up to 1,200 cm³/h, but we have the goal to go much faster than that!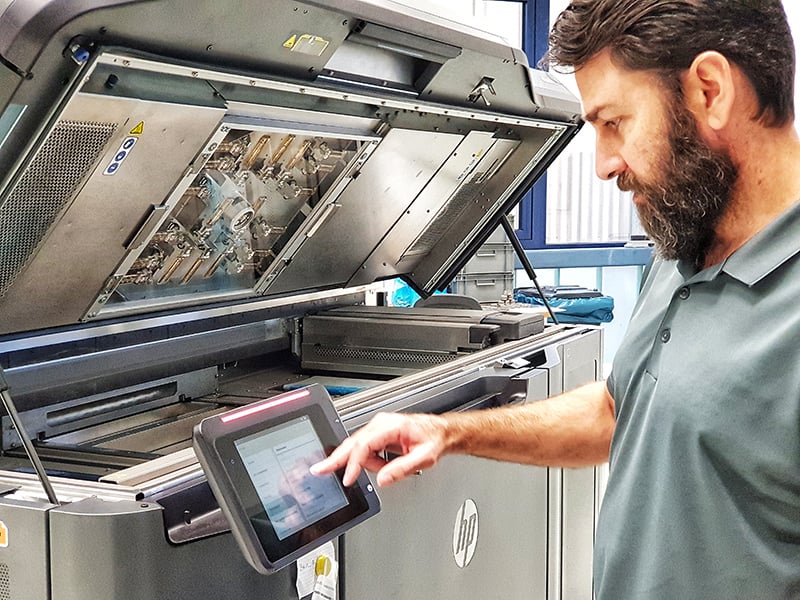 The new HP Metal Jet printers will increase users' productivity by up to 50 times compared to alternative 3D printing processes. GKN Powder Metallurgy is the only manufacturer using the new HP Metal Jet Process within the automotive and industrial markets until the technology becomes generally available in 2020.
Hoeges: I fully agree, but the advantage for tomorrow is the incredible material variety. A laser is limited to materials you can weld. In binder jetting you can even process hard materials - something which is not possible with Laser AM.
Right now, GKN Powder Metallurgy offers only 316 L for binder jetting. What are your plans for enhancing the material portfolio?
Hoeges: We are already working on 17-4-PH with HP. This is another stainless steel widely used in the metal injection molding industry. Then our target will be to work with low-alloyed steels, which we are very experienced with in powder metallurgy, our conventional business. Our customers are already familiar with these alloys and we are working to decrease the cost further for them.
On the horizon there is also another material that is very interesting for the market. We get a lot of questions on aluminum, so this is something we certainly need to deal with. The sintering of aluminum is difficult, but who other than GKN Powder Metallurgy should face this challenge?
Working with VW and future milestones
What is your strategy to industrialize Binder Jetting and your main milestone for the next months?
Hoeges: Bringing the technology into serial production. We have very ambitious targets with our partner VW to bring the first parts into production early 2019. We know the automotive requirements on the printer, so now we can start the validation process and production ramp up and deliver the final parts to the customer.
How do we collaborate with VW on this special project?
Hoeges: Never in the history of GKN Powder Metallurgy have we experienced something like this. It is a new level of thinking and discussing and a new level of bringing products into realization. This enables us to play our strengths in agile development and being fast to the market.
One important success factor is Michael's support within the process qualification and all the validation jobs we need to do. And of course, we have teams on both sides that collaborate very closely and structured contributing to the strong progress.
Currently, VW is using Metal Jet to create individualized or special series parts such as individualized key rings, gear shift knobs and exterior-mounted name plates. How will the product portfolio change once the automotive industry leverages the full potential of HP Metal Jet?
Hoeges: The technology will help automotive customers increase the capability of their products, the efficiency of engines, reducing carbon footprint etc. Additive Manufacturing in general can have a huge impact here. Binder Jetting will lead to serial production.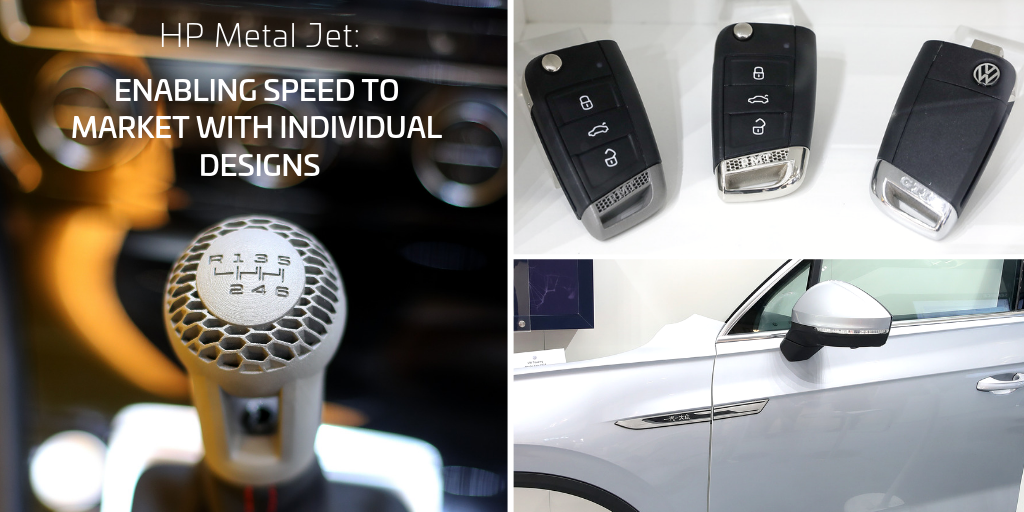 At Formnext in November 2018 we exhibited the first real applications for VW printed by HP Metal Jet
Volkswagen has a huge interest in the individualization of products. We think mass customization will become an important topic for the automotive industry and binder jetting can enable it. For example, you can print the same shape with different names on it and individualize parts according to what the end-customer wants.
Monroe: Mass customization is another way for us to create more value out of the parts.
If you look back to the past months, what have been the greatest accomplishments of GKN PM in Additive Manufacturing in 2018?
Hoeges: The greatest accomplishment was to get out of the shadows! GKN Powder Metallurgy was not widely known in the additive industry outside of existing relationships with customers. New companies approach us now and see our potential.
Monroe: GKN Powder Metallurgy is committed to investing in the industrialization of 3D printing, and that's what makes customers and partners come. Others see that GKN Powder Metallurgy is serious and commits a fair amount of resources to make sure it is successful.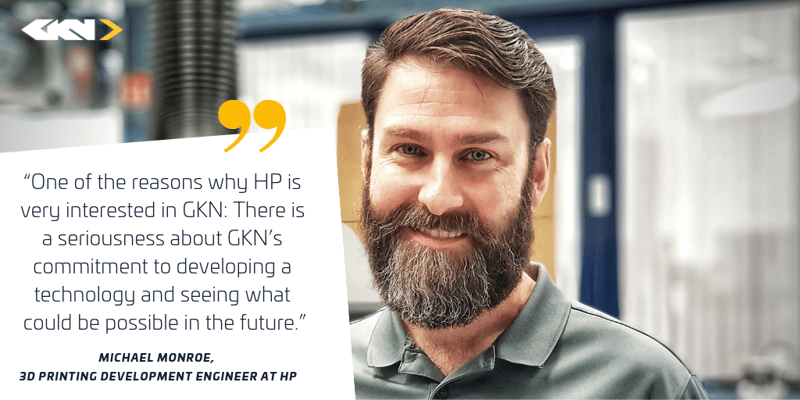 That is one of the reasons why HP is very interested in GKN Powder Metallurgy: there is a seriousness about the company's commitment to developing a technology and having the background of the traditional ways of doing it and seeing what could be possible in the future.
Thank you.