How the start-up Retromotion leverages the power of 3D printing for the automotive aftermarket
3D printing has fundamentally changed spare parts production in the automotive aftermarket, and the individual needs of customers have resulted in exciting new business models.
I recently interviewed Artur Oswald, founder and Managing Director of Retromotion and Markus Josten, Global Sales Director, Additive Manufacturing at GKN Powder Metallurgy. The start-up Retromotion, founded in only 2017, operates an online shop for spare parts for young-timers and classic cars and also offers the post-production of unavailable spare parts in 3D printing.
GKN Powder Metallurgy is Retromotion's official production partner of metal 3D spare parts. To see how the collaboration works, check out of the below video. The clip features the classic car enthusiast and collector Jo Weber, who couldn't find a replacement for the broken interior door handle of his Ferrari Mondial QV Cabriolet. In collaboration with GKN, Retromotion helped him to reproduce the rare handle in metal 3D printing.
What problem does Retromotion solve?
Oswald: Our mission is to make spare parts available to oldtimer owners. The search for spare parts in historic vehicles is time-consuming and expensive. The owners often develop a real hunting fever, and at the same time this is also a horror for garages that help with the search. We have recognized this problem and created an online marketplace for spare parts for no longer produced vehicles.
How does GKN Powder Metallurgy help solve this problem?
Josten: GKN Powder Metallurgy is the only 3D printing supplier on Retromotion's platform; a place where vintage car lovers are looking for solutions that nobody else can help with. We are a unique addition to this innovative platform!
Your business model is based on three levels - can you explain these to me in more detail?
Oswald: In the first stage, we offer our customers original equipment, quality spare parts in an online catalogue, which are rather easy to source. We have a strong focus on offering these OEM parts on our platform.
If the customer has not found what they are looking for in our online shop, then the second stage comes into action. Here we offer a concierge service and scout these spare parts by working with our network of over 1,400 partners.
And if we haven't found them, then we offer the third stage: the post-production. It may be that we request a conventional post-production from the original equipment manufacturers, but if the demand isn't so high then we will use 3D printing.

(Image Source: Retromotion)
Who is your target group of customers and what markets are you targeting?
Oswald: Our target groups are both consumers and businesses. On one hand, there are the classic car owners who work on the vehicle themselves. Here we distinguish between those who drive the vehicle out of nostalgia and the Hipsters: they simply find the vehicles beautiful but have no emotional or nostalgic connection to them. I also count myself among them.
On the other hand, there are business customers like garages that specialize in the restoration and maintenance of classic vehicles.
Today we deliver to the German-speaking area in Europe. In 2019, we will be addressing the markets in France, Italy, Spain and Great Britain, and in three years we want to be able to supply all of Europe. The USA and Japan are also interesting markets for us in the future.
What's your biggest challenge right now?
Oswald: The biggest challenge as we grow is keeping our promise to make all spare parts available to users. We always want to live up to the expectations of our end customers. But the concierge service that 80 percent of our customers use involves a lot of coordination work. We are now trying to digitize that as much as possible.
3D printing and the partnership with GKN:
Why is metal 3D printing the right technology for your platform?
Oswald: 3D printing allows us to build a digital warehouse. Once the 3D model of a spare part is available, producing on-demand is simple. 3D printing makes our business prepared for the future, and we will benefit greatly from the automation and digitization of the stock.
We do not only limit ourselves to metal 3D printing. Plastic 3D printing is just as helpful because the proportion of plastic, especially for young-timers, is high. For classic cars, though, the proportion of metal is much higher and metal 3D printing has the greatest potential.
Josten: We are utilizing the Laser Powder Bed Fusion process for old and rare components, and we are utilizing Binder Jet Technology for any small series production parts.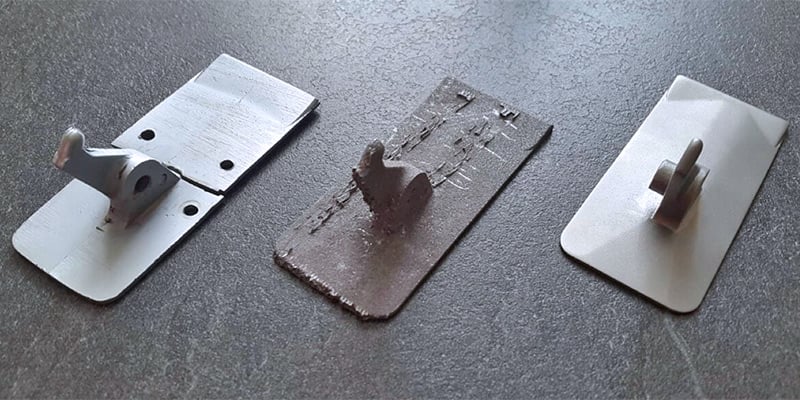 Left: the broken original door handle of the Ferrari Mondial QV Cabriolet, Middle: the blank from the 3D printer, Right: The finished product (Image Source: Retromotion)
Was it difficult to get GKN Powder Metallurgy enthusiastic about your idea? Why are we the right partner for you?
Oswald: Not difficult at all; it was actually very easy. We can tell that you are also in a start-up spirit within your company. Your team has entrepreneurial spirit: you all see where the potential lies and how you can turn it into a business. Your team is also very flexible and spontaneous. We met as equals and all of us saw the benefit of working together, so it's just fun!
Josten: I believe we have a very similar mindset of Retromotion. We combine the heart of a start-up company with the professionality of an automotive supplier. Our team takes risks and we're not afraid to approach new markets and applications.
Will this technology influence spare parts production in the automotive aftermarket? If so, what trends can you expect to see in the coming years?
Oswald: From my experience I can say that 3D printing is technologically very advanced. You can rebuild any spare part, but there may be a cost issue. If spare parts are no longer available, the customer should be able to decide at the push of a button whether the part should be printed in 3D without any further effort. At some point this will become reality, but we don't know whether it will be in two, three or five years or even 10 years from now.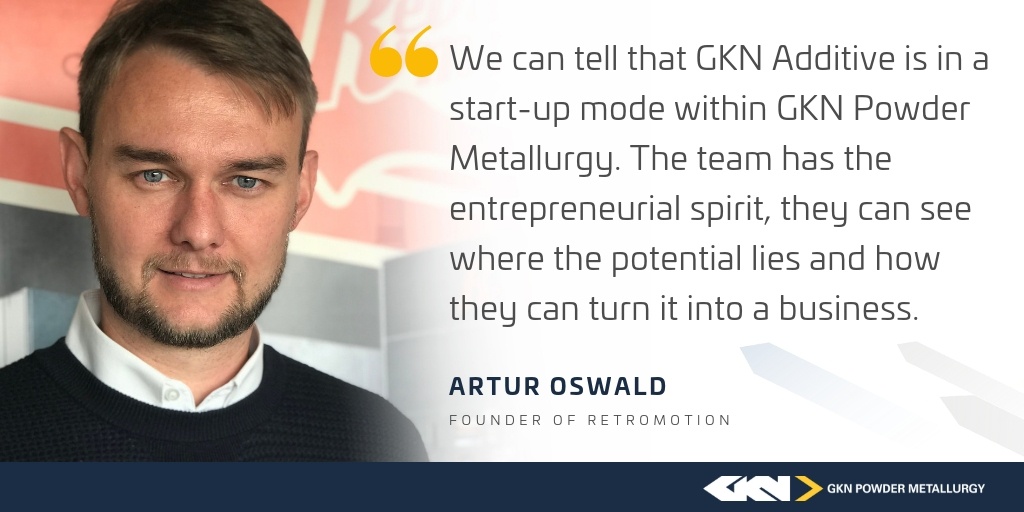 What does this collaboration say about GKN Powder Metallurgy's business focus on the automotive aftermarket?
Josten: As a business unit in Additive Manufacturing, we need to find our way more into the automotive aftermarket. We need to work through the automotive industries and create interesting business cases as we work to bring new technology into mass production. Once we do this, we can then introduce it into the aftermarket.
Trends such as autonomous driving and car sharing are fundamentally changing the automotive industry. Will vintage cars eventually die out? Or will people always enjoy them and drive themselves?
Oswald: Right now, I simply can't imagine that driving a vehicle myself will ever die out - regardless of whether it's a modern car or a classic car. The passion of driving touches humans so deeply. Whether it's the freedom to drive a car myself, or deciding whether to drive faster or slower: this feeling of freedom and this feeling of independence is so strong that it will remain.
I don't think that the new technologies will completely replace old technologies, but the two will coexist. All the technologies that are available have purpose and we must wait and see how they develop and in which direction they grow.
Thank you for the interview, Artur.