How pioneers capitalize on 3D printing to lead the market
In the thermal processing industry, a still conservative market, metal 3D printing is not yet considered as serious production process. Kueppers Solutions, an industrial burner technology specialist, is a pioneer in the adoption of metal additive manufacturing. The company has developed a mixing unit for industrial burners to reduce energy consumption and nitrogen oxide emissions. Due to its smart design, it can only be manufactured by metal 3D printing.
Along with my colleagues Emre Kilic and Markus Bürger, I spoke to Jens te Kaat, CEO of Kueppers Solutions. We wanted to learn more about his unique perspective on metal 3D printing. More specifically, we were interested to see what has changed for Kueppers Solutions with the adoption of this technology and what challenges the additive manufacturing industry urgently needs to master in order to successfully enter the thermal process industry.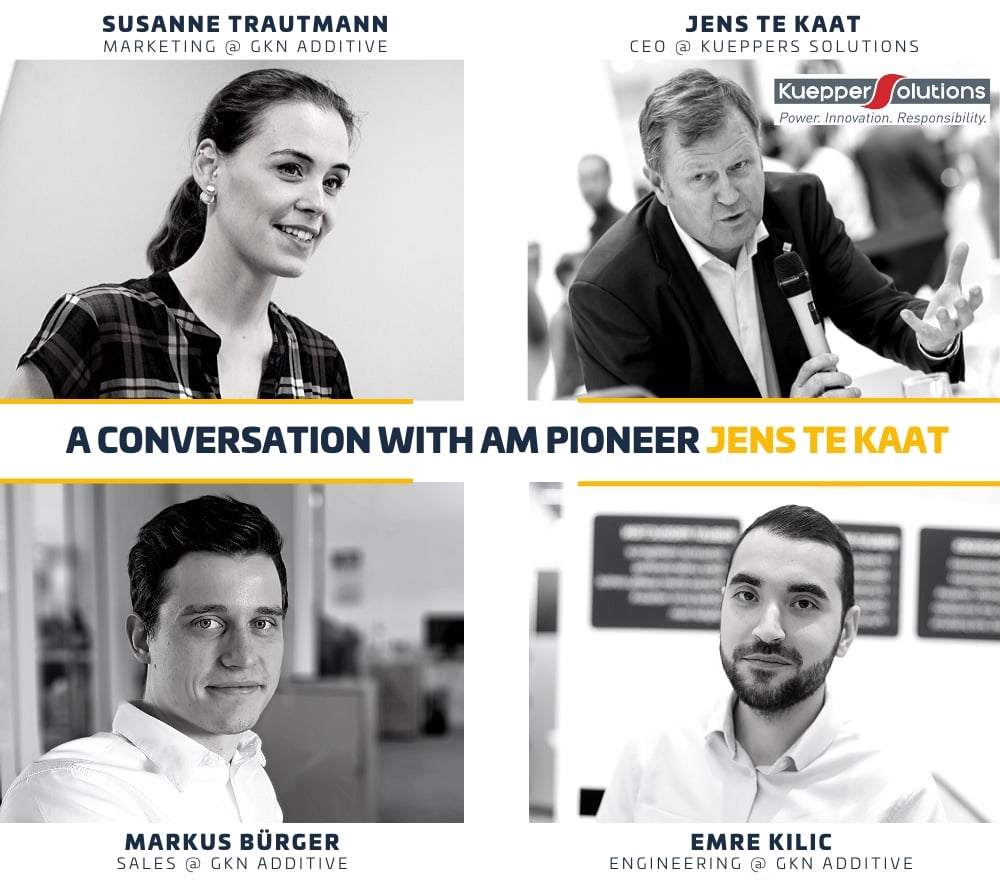 We'll start the mixing unit's series production with selective laser melting (SLM). The next generation is to be manufactured by binder jetting. Why is Binder AM the ideal process?
Jens te Kaat: Binder jetting will help us achieve cost consistency compared to conventional manufacturing processes. The legal limits for nitrogen oxide emissions have yet to be sufficiently reduced. There will be no willingness to reduce nitrogen oxide values if additional costs are associated with this.
My counterargument to this, though, is that this is the only way to futureproof the gas burners in the long run because it's clear that the legal limits will be reduced. The diesel scandal preoccupied the media for three years before the retrofitting of hardware became mandatory. It will be a similar scenario in thermo-process technology. So, binder jetting is quite high on the agenda for us: The technology can contribute to solving all the challenges around cost.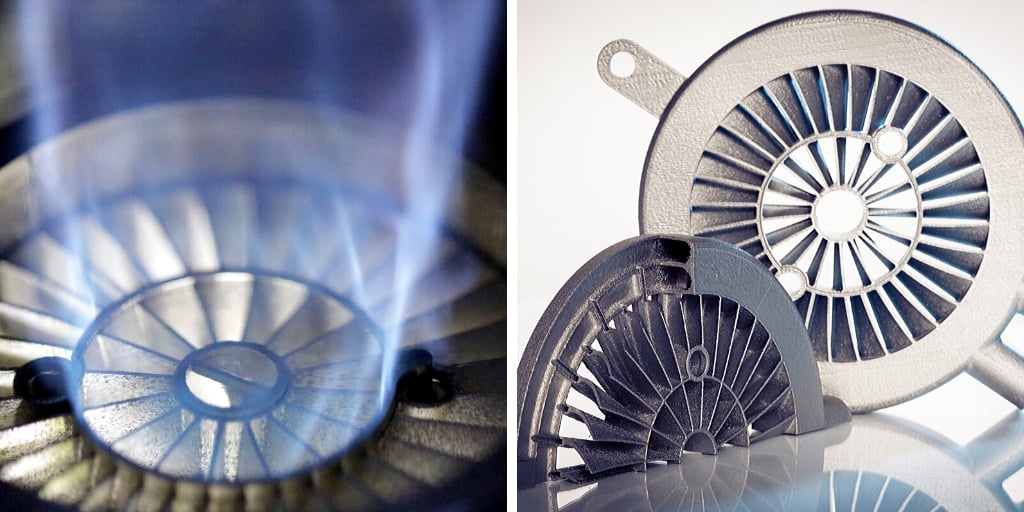 Kueppers Solutions has developed a mixing unit for natural gas burners that optimizes the combustion process with a significant reduction in nitrogen oxide emissions © Kueppers Solutions
What are the key challenges of 3D printing on its journey to a recognized manufacturing technology for mass production?
Jens te Kaat: The key is communication! The general knowledge that all of us have about traditional manufacturing processes is not yet established in metal 3D printing.
3D printing is already in use today in a wide variety of industries, including many security and safety critical applications. We must communicate this regular usage more clearly. When you hand over a metal 3D printed part to companies that have limited knowledge of the technology, they are quite surprised and say "Wow, that's already possible today?"
The mixing unit is series-manufactured in many different variations, which leads to a high level of complexity. How do you distinguish between these types?
Jens te Kaat: We differentiate by product families according to the output class of the burners: 60kW, 150kW, 300 kW, 600kW, 1.2 mW and 1.8-2 mW. Within the output classes there are numerous different variations, particularly relative to the diameter of the burners which currently also depend directly on the system in which they are used.

Talk us through what happens behind the scenes at GKN Additive and Kueppers Solutions to ensure that everything works smoothly and accurately from order through production.
Jens te Kaat: The best way to describe it is through this example: if we compare the process to paper printing, then printing one page is a repetitive process. The variations arise due to the different words.
This thought process is comparable with our collaboration: We produce a printable 3D model and have clarified the printing parameters jointly in advance. The variation for us only arises as a result of the number of nozzles, the increase in air baffles, the diameters, etc.
Is 3D printing a process that simplifies testing?
Jens te Kaat: Absolutely. With 3D printing, we can try out different variations without having to constantly build a new set-up or set up a tedious process. We are also able to run prototype and series production in parallel.
Normally a prototype costs 10-50 times the subsequent cost of a series component, but with this process, there is no cost difference. With burner development, where trial-and-error is part of everyday development, 3D printing is the process that helps us the most.
How do you ensure that all components meet your quality requirements?
Jens te Kaat: We can measure all essential quality aspects within the components through visuals and pressure characteristics because fluid runs through a channel system. If the nozzles were to be printed even slightly too tight, this would cause an error that we would notice immediately. At a certain output, the burner would produce a distinctly higher counter-pressure in the gas area.
How do GKN Additive's quality control measures help to deliver components in perfect condition?
Jens te Kaat: We have jointly defined the quality standards for series use of the components. The form tolerances, which are highly important in many other applications, are not very relevant to us. Instead, the pressure curves within the mixing unit are important to enable the mixing unit to precisely dose the air-gas mixture.
What can the 3D printing industry do win over someone's confidence in the technology?
Jens te Kaat: Now, many people associate 3D printing processes with printing plastic figurines for decorative purposes or manufacturing rare spare parts.
Even though metal 3D printing is a serious production process that can already compete with traditional manufacturing methods, this thought process isn't on the minds of at least 95% percent of the people I talk to. I am always traveling with these components because I believe that once someone holds the technology in their hands, they can really understand the potential it has, and their doubts start to slowly disappear.
In the thermo-processing technology industry, many people still think conservatively when it comes to manufacturing. They still associate 3D printing with incredibly high prices, but we have moved a long way from that. Now is the right time to launch an open discussion around price: 3D printing does not require an investment. The question shouldn't be "Should I invest money in a better technology?" but "Am I educated enough to do so?"