Q&A: GKN supports markets outside automotive industry
Growth. Integration. Innovation. A strong Powder Metallurgy success story in the automotive industry has expanded GKN's drive for collaboration into additional markets. An unparalleled advantage of PM capabilities has hit the automotive industry, proving the technology's abilities. Now GKN Powder Metallurgy is turning its sights to additional markets to offer customer this same advantage.
As the metal shapes solution provider, GKN deeply collaborated with automotive industry leaders to find innovative PM opportunities that furthered customer applications. Now entering the Industrial Market - Lawn and Garden, Household Appliances, Motorcycles and ATVs, and Small Engines - GKN will integrate PM technology to create the same powerful success.
We spoke with John Noteman, Global Sales Director of Industrial Markets, on GKN's re-commitment to these diversified markets and joining forces with industrial partners to design PM-specific solutions.
1. John, please first explain GKN's stance on the Industrial Market and where we are today.
Over the past several years, the automotive industry was quick to adapt technology developments and GKN brought significant PM solutions to the market. When other industries saw the capable PM solutions, we made an immediate commitment to our industrial partners to promote similar technology advantages in their respective markets.
This past April, I re-joined GKN as the Global Sales Director of Industrial Markets to lead this expansion effort. We feel there is a strong need for our technology outside of the automotive arena. The Industrial Market has always been a strong segment for us but we feel there is room for deeper and even more collaborative relationships with our customers.
Are you ready to connect with John on opportunities with GKN in the Industrial Markets? Click here to contact him directly:
2.What products fit in the Industrial Market? Where will GKN provide solutions?
For simplicity, we use the term Industrial Markets. The Industrial Market consists of all industries that are not considered automotive, and there are multiple markets for GKN to supply to. In terms of products, this can range from single-level components to complex designs - utilizing GKN-designed CNC presses which remove the need for secondary operations.
These markets are global. GKN is the largest global PM company with 34 facilities in 10 countries around the world, allowing us to support all customers: from a small regional-based company to the largest global companies. Our global reach allows us to be local to customers, while still offering the benefits of a multinational company.
3. What is GKN's strategy to become the market's leader?
Our strategy is simple: close collaboration with our customers. This model has been successful for us in the past when we work with companies that are open, trusting, share their objectives, and are truly capable of acting with an open mind to reap the benefits of Powder Metal with a Solutions Provider like GKN Powder Metallurgy. We call this collaboration 'market making,' as our customers gain an advantage in the products they produce and sell, and we enjoy the growth along with them. This collaboration is truly a win-win.
To say it another way: customers, bring us your metal shape challenges. We will help you select your material, part configuration, and the right process for production. We then produce the part in a global location most convenient for you.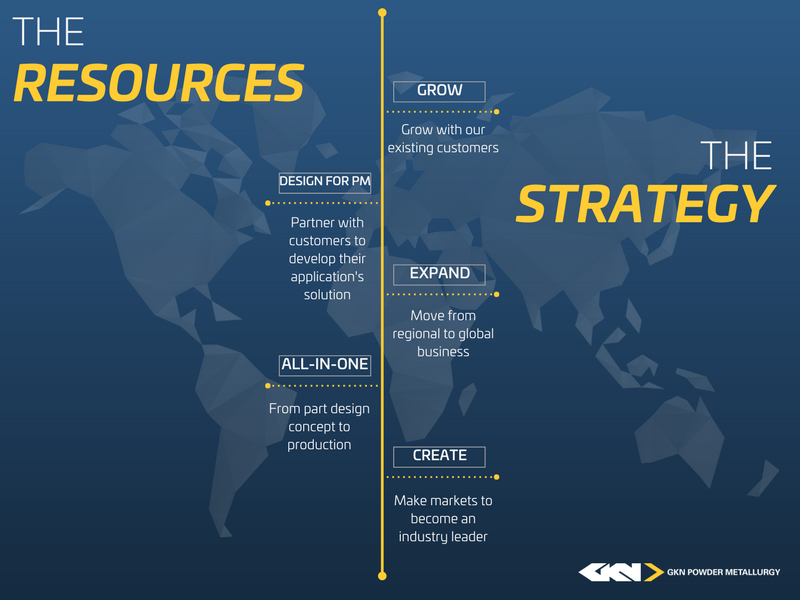 4. Where do you see opportunity for GKN to grow?
I truly see GKN's opportunity for growth in the Industrial market as limitless, both with the ability to design a part in powder and with the growth of the markets we serve. These diversified markets have yet to see a technical leader emerge, which is our end goal to become. Our focus is to make both our customer base and the broader market aware of GKN's portfolio in PM technology.
As an example, GKN has made a significant investment in Additive Manufacturing, an area where we are leading the global market. Customers utilize our Additive capabilities for a range of parts from design concept to low and medium volume production. In partnering with our materials division, Hoeganaes, we have developed a portfolio of powders including Titanium, Stainless steels, and Nickel based alloys.
5.Explain GKN's commitment to being a solutions provider, and how that impacts Industrial Market customers.
At GKN we thrive on working with our customers to "Design for PM." This means we work with the customer to develop a solution for their application. Our engineering department is stocked with over 500 engineers dedicated to partnering with customers and understanding specific applications to provide the best solution.
Our objective is to not only educate the market on the values of PM technology, but also to provide a one-stop solution by being a partner from part design concept to production. Our vast portfolio of resources is incomparable to other suppliers in the market, making GKN the go-to company for our customers' Powder Metal needs.