GKN's Fleat Pump introduces integrated heating function for performance-driven applications
The strong push toward electrification comes as no surprise, especially as leaders across all industries continue to share their public commitment to an electric future. This topic is dominating discussions with suppliers and system designers since this innovative line of technology requires the transformation of current systems, applications and infrastructures to meet new requirements.
To combat electrified application's design and functionality challenges, GKN Powder Metallurgy has validated another lightweight and high efficiency solution for e-motors. While traditional manufacturers are programmed to believe that compact systems require a compromise in efficiency, advanced powder metallurgy technology coupled with our dedicated team of experts has led us to introduce you to the GKN Powder Metallurgy Fleat Pump.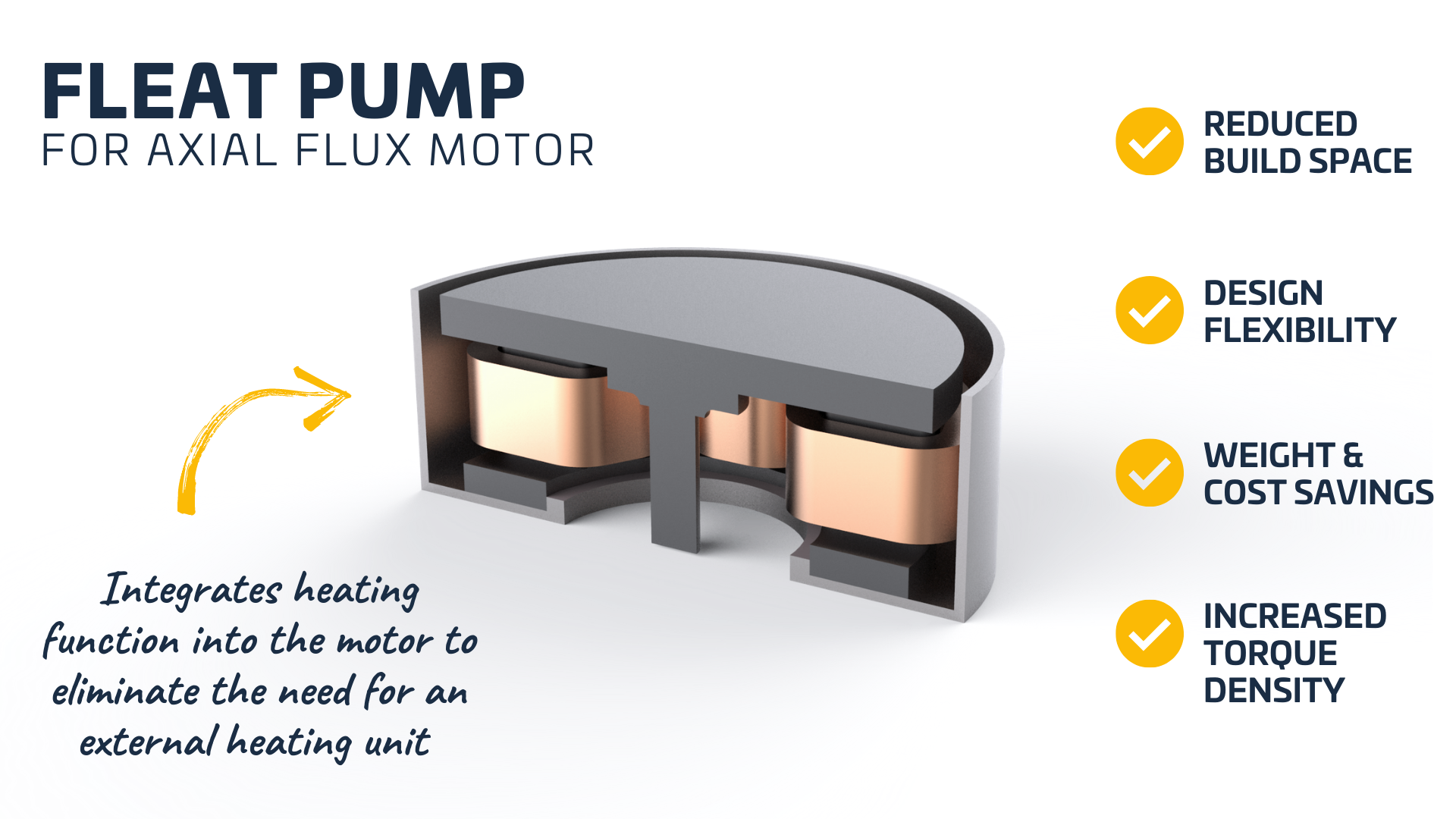 Fleat Pump advantages
The Fleat Pump was designed to meet requirements for a small motor that can deliver in high torque and power, validating the capability of smaller packaging options for integrated e-motors. But the Fleat Pump offers another unique opportunity for cost, weight and space savings by integrating the pump's heating function into the motor. This allows any pump fluid to be heated on demand for optimum viscosity at low startup temperatures without requiring an additional external heating unit.
The Fleat Pump's design features were benchmarked in GKN Powder Metallurgy's novel axial flux motor (AFM): a compact, integrated motor design with increased torque density and performance and reduced build space. The AFM is powered by soft magnetic composite iron materials (SMCs), giving the motor a three-dimensional magnetic flux ability for compact and high efficiency systems.
Click here for more information on the Axial Flux Motor
Fleat Pump introduces an integrated heating function
To reduce efficiency losses and ensure a trouble-free operation at low temperatures for traditional pump designs, the innovative GKN Fleat Pump's converter concept design integrates an on-demand induction heating function inside the motor. This heating function is controllable and can be switched on and off to fit the motor's exact requirements.
At critically low temperatures when the AFM is put in heating mode, tailored magnetic flux is directed into the housing or the shaft to instantly heat up any pumping media in the motor. The eddy currents induced by the changing magnetic flux enable the highly conductive material to heat the fluids immediately when needed.
There is a significant amount heating power available, which is due to the large eddy currents that are created when the alternating current changes the magnetic flux at a high frequency. While the magnetic flux runs through the stator, our SMC material effectively suppresses the eddy currents to an efficient heating operation through the housing and shaft. This results in the ability to direct 90% of the generated heat to where the heating power is needed to precondition any fluid temperature instantly.
The integrated, on-demand heating function preconditions any fluid temperature instantly
In one of our benchmarking studies, the Fleat Pump design with 50W power on the e-motor operation has proven to generate a 150W integrated heating capacity. Through our next benchmarking study, the heating output will be increased to up to 1000 W with the same system size.
Efficiency improvements powered by the Fleat Pump
To showcase the Fleat Pump's superior efficiency and torque, we have validated the pump's performance in the AFM against competing technology to prove its superior efficiency and torque.
Materials with a traditional 2D motor steel sheet lamination design don't respond well to a high-frequency change in magnetization. The traditional method to combat this challenge is to induce the eddy currents into a component to create a magnetic field on its own to counteract the change in magnetic flux. This method significantly heats up the part.
GKN Powder Metallurgy's unique 3D magnetic SMC material, with an electrical isolation in all directions, allows for a design with suppressed eddy currents because of its low electrical conductivity. This avoids unintended heat induction, ensuring that the stator operates at favorable temperatures.
The Fleat Pump avoids unintentional heating induction through the unique advantages of SMCs
During motor operation, GKN Powder Metallurgy's AFM design directs the magnetic flux where it is needed in the stator and rotor components while avoiding the housing. This guarantees that the changing magnetic flux is kept in areas with low electrical conductivity, resulting in a high motor efficiency.
When benchmarking the Fleat Pump-powered AFM against a reference motor of the same size, we validated a 10% increase in efficiency over all speed ranges and an increase in torque performance from 60 mNm to 70 mNm while minimizing torque pulsations. With the complete elimination of a thermal and structural system integration for external heating, the weight of the e-motor was reduced by 10% and the total system weight was reduced by 48%.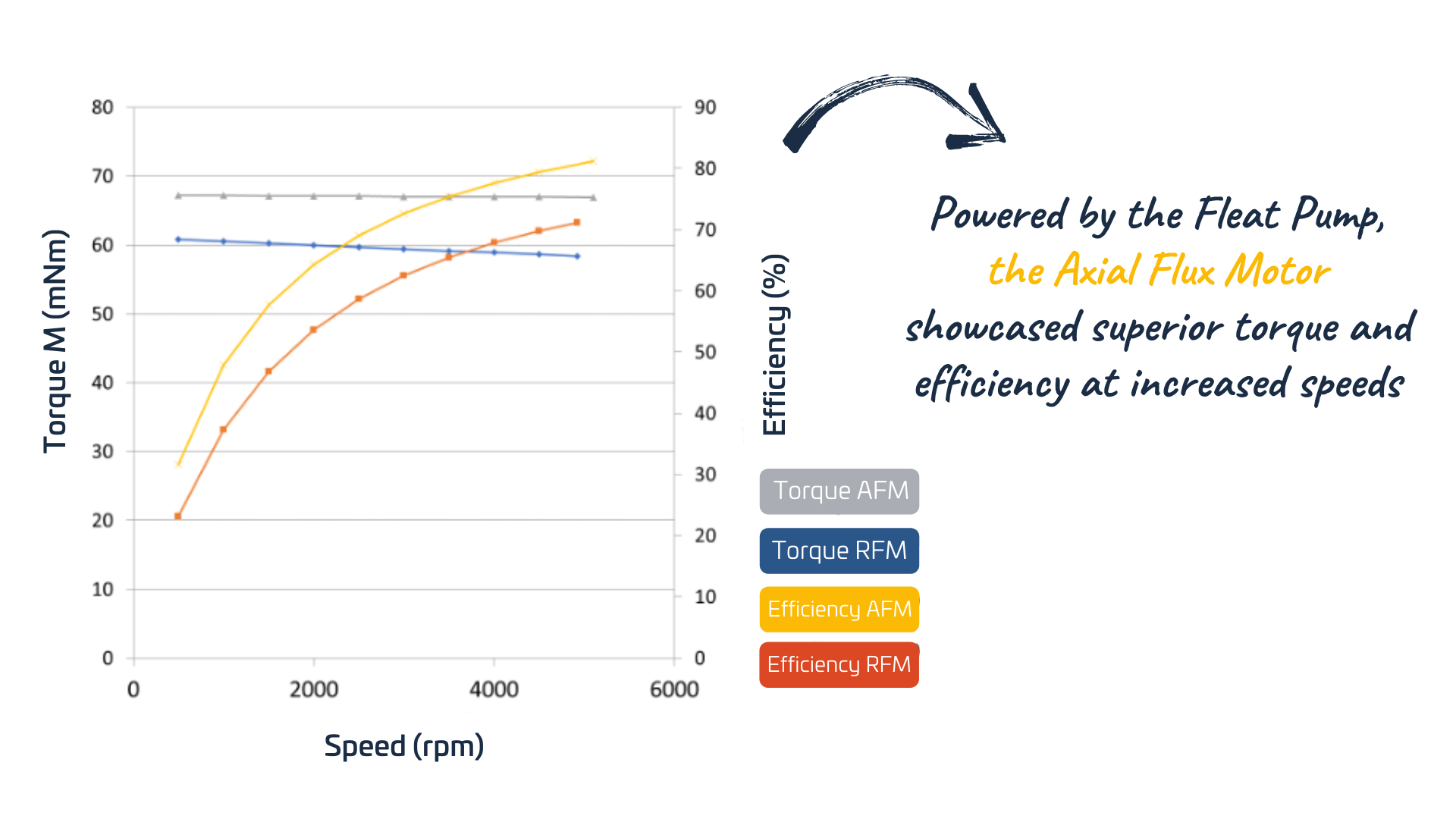 With the Fleat Pump, the AFM weight was reduced by 10% while showcasing higher torque and efficiency compared to a conventional reference motor.
The Fleat Pump's cost-efficient design eliminates engineering compromises and creates new opportunities to enhance fluid pumping applications that can benefit from improved performance characteristics and an on-demand heating functionality. These applications could be:
Automotive pumps
Heatable tank systems
Feeder pumps

Reciprocation pumps

Industrial pumps
Household appliances
Coffee machines
Are you ready to reap the benefits of the Fleat Pump's innovative technology? GKN Powder Metallurgy's team of experts support customers through benchmarking, simulation, design, prototyping and manufacturing of new solutions in pump technology.