GKN's top five takeaways on transmission design from CTI Berlin
During the recent CTI Symposium in Berlin, more than 1,300 delegates from across the world met and discussed the latest automotive trends with a specific focus on hybrid and electrical (HEV/EV) drivetrain concepts.
Here is our overall takeaway after two days with industry peers: Electrification will significantly change the future mobility world, but Powder Metal (PM) technology is well-positioned to take an active part in transmission design and drivetrain design. The need for faster development cycles in an increasingly complex environment requires new ways of working and collaboration at early stages. OEMs and system suppliers are keen to find partners that are capable of providing design and system integration support. Looking at the challenges in more detail, we have five key takeaways on our list:
Vehicle electrification requires more electrified components and subsystems with a strong need for integrated and lightweight designs
Hybrids will take a significant share with more than two thirds of the transmission market in 2030, resulting in complex powertrain designs and with new opportunities for PM in actuation and gear components
Our showcased PM transmission gears raised interest as PM technology offers both performance and NVH improvement for future hybrid and battery vehicles
Fuel Cell Technology will gain more attention from the industry as the more promising technology for long range traffic
The push for weight reduction has engineers taking a closer look at innovative designs that can only be manufactured with metal printing technology: thinking beyond the normal perception of prototyping with Additive Manufacturing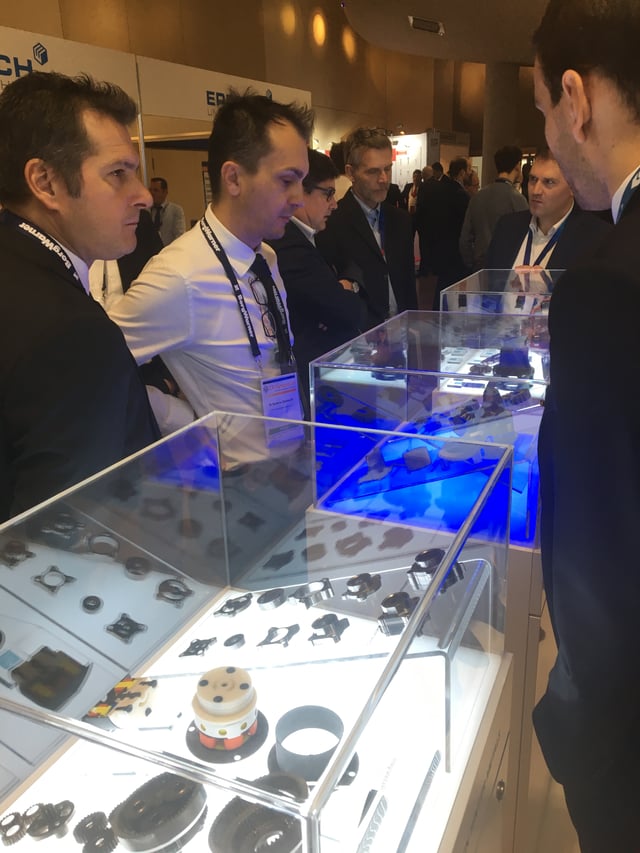 Early stage collaboration will be key
Engine and transmission will be areas of high impact for system suppliers with the need for fast, flexible and cost-effective solutions that can be integrated to global value chains. Early stage collaboration with component suppliers who provide validation and testing will be key in minimizing risk.
Thinking that way, GKN Sinter Metals showcased case studies demonstrating our capabilities in providing unique solutions for drivetrains with tailored performance, NVH and lower weight. These showcases resulted out of intensive early stage discussions with our customers and partners.
Soft magnetic powders enable a new generation of highly integrated e-pump and motor systems. The concept shown on our stand features a compact design and achieves a 15 percent reduction in weight. The extended use of up to 50 percent PM, both in the pump and in the axial flux e-motor, provides a cost-efficient solution and improves the performance across the complete temperature range.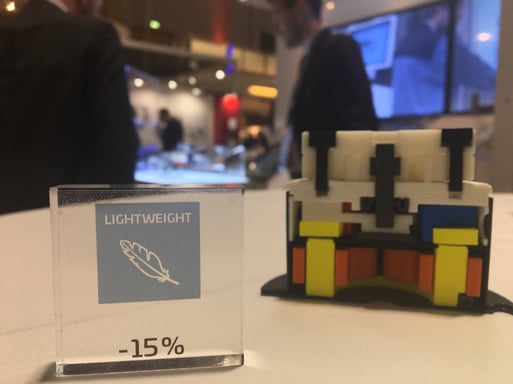 Our study with Porsche Engineering for a metal printed AM differential housing with an integrated ring gear inspired interesting conversations with visitors at our stand. The full housing will feature a 13 percent weight reduction and eight percent inertia improvement. The concept will now be taken to the next stage with the perspective to approve it for high-end and motorsport applications.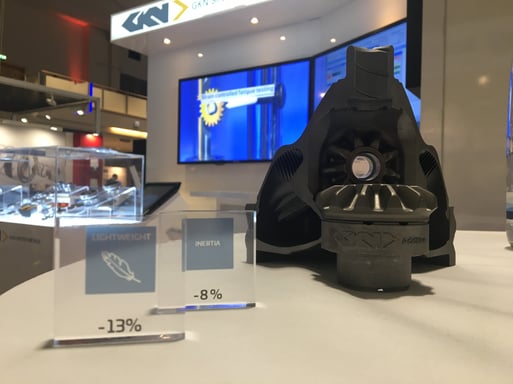 Surface-densified transmission gears have recently been validated for an e-Axle gear box, as used in P4 hybrid cars and in BEVs. PM-tailored design of gear teeth and unique design capabilities of the gear bodies allow both, reduce noise levels and adapt the natural frequency of the transmission with different PM gear designs, like being assembled to different car models.
The reaction to these studies showed the strong interest of the industry in partners that are capable to deliver to fast and effective development cycles, providing system integration support on pressures topics like weight reduction and NVH improvement.
Ready to find out more on effective partnerships and GKN´s latest ideas to boost automotive electrification?