GKN Powder Metallurgy opens hydrogen storage-based residential home
Inaugurated with an Opening Day event, GKN Powder Metallurgy has officially unlocked the doors on its first self-sustaining residential home in the South Tyrolian Alps. Away from any public power grid, the over 400-year old home operates on a CO2-free energy supply system providing locally generated energy from renewables.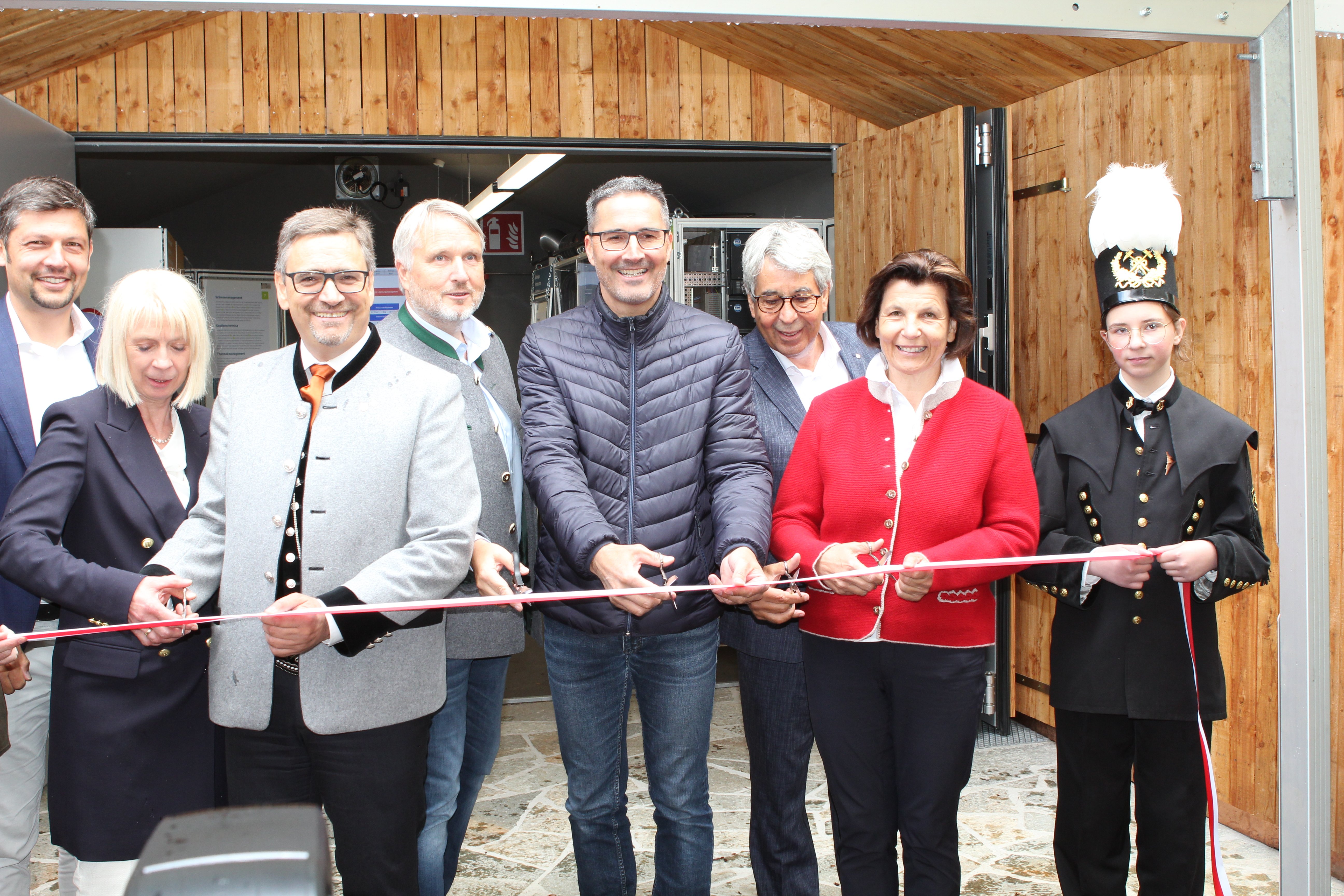 The Hy2Green ribbon cutting ceremony took place in July at the self-sustaining energy system house. In the photo from left to right: Landesrat D. Alfreider, home owner R. Wegner Griesmair, mayor R. Steger, GKN Powder Metallurgy CEO P. Oberparleiter, Landeshauptmann A. Kompatscher, president employer association F. Giudiceandrea, Landesrätin M. Hochgruber Kuenzer
As regional and national leaders in the South Tyrol area stress the importance of independent and CO2 emission-free energy systems, the energy storage system – using metal powder to safely and compactly hold hydrogen as its energy source – comes at a crucial time.
A self-sustaining energy management system
How can green energy be used around the clock, when typical energy generating sources such as sun, wind and water are not consistently available? To solve this natural resource problem, clean energy needs to be stored in an efficient and sustainable system: Hy2Green.
Hy2Green, GKN Powder Metallurgy's long-anticipated energy storage system, presented its first zero emission heat and power generator. Following its target goal, the system creates green energy from regenerative sources, stores it and provides electrical power and heat when needed – all in a local ecosystem with no emissions other than water and oxygen.
To create Hy2Green's metal hydride base, GKN Powder Metallurgy combines the dense and stable chemical connection of hydrogen with iron metal. The energy can be stored safely over an extended period of time in a controlled environment without any loss; a vital resource with no connection to public power grids.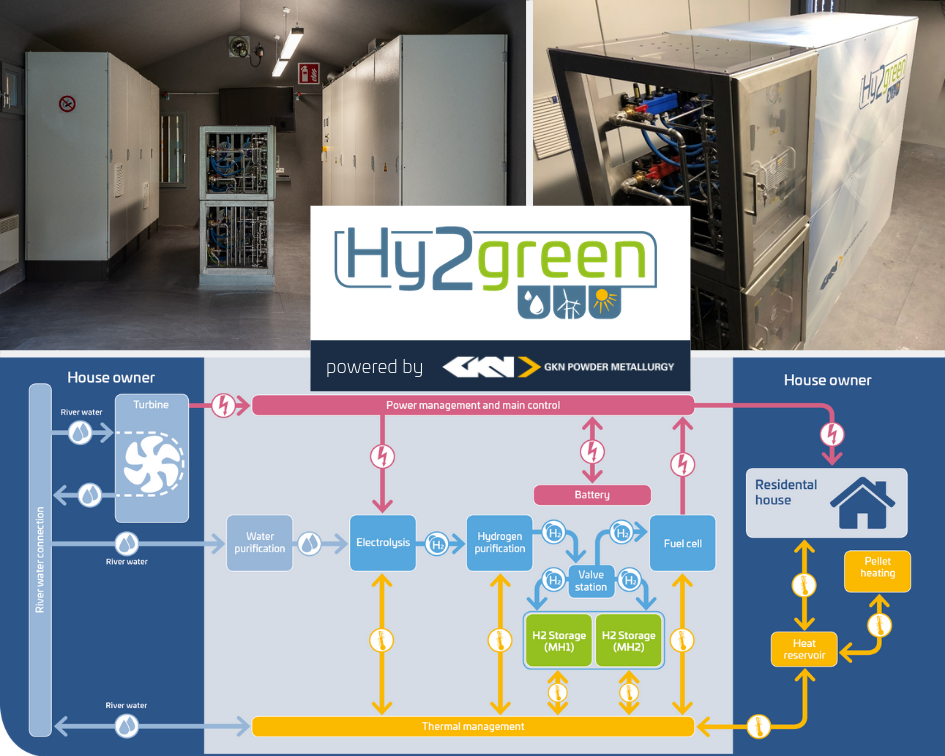 Hy2Green system - left upper image, Modular metal hydride storage - right upper image, Flow chart of energy management system
A system focused on safety, compaction and sustainability
Quickly explained, here is how the Hy2Green concept works: Hydrogen is generated in the electrolyzer unit, powered by a regenerative energy source and fed into storage tanks filled with metal powder. The hydrogen bonds to the metal particles to form metal hydride. Through simple temperature adjustments, the hydrogen is released to a fuel cell and through the fuel cell is converted back to electrical power.
It all comes down to size and sustainability: the Hy2Green system need 20 times less space for the same amount of energy at the same pressure rate compared to gaseous hydrogen storage systems. The system works at the safe pressure rate of only 30 bars, as standard storages for gaseous hydrogen run at pressures up to 800 bars.
At the opening event, Peter Oberparleiter, CEO GKN Powder Metallurgy, stressed the importance of the 100% recyclable hydrogen storage system's sustainability: "A stand-out factor against other systems is our use of iron metal and titanium, which is available in vast amounts compared to lithium being used for modern researchable battery storages. The life expectancy of our metal-hydride based Hy2green storage lays at approximately 10 years, compared to the three-year lifespan for electric battery storage."
Areas of application: the system's future
The decentralized creation of green hydrogen from sun, hydro power and wind creates the opportunity for an environmentally friendly, safe and independent energy supply. The Hy2Green system presents the ideal opportunity for powering residential homes and buildings in areas with no connection to a public grid, a core issue in the Alpes region.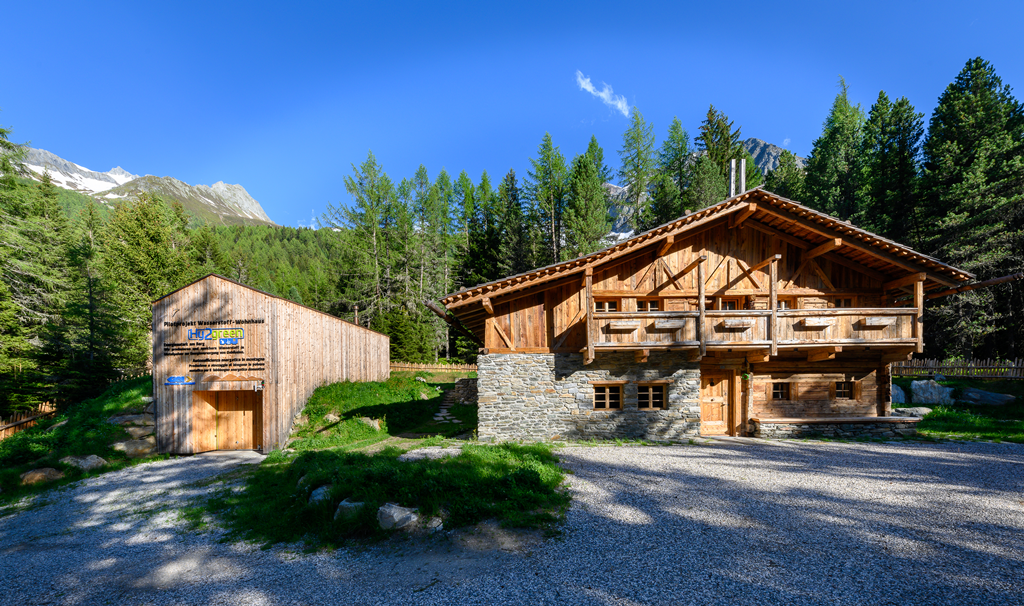 GKN Powder Metallurgy provided the Hy2Green energy system for the restored 300-year-old "Knappenhaus," a residential home in the township of Prettau, South Tryol.
The system's safety qualifications allow for self-sustaining hydrogen filling stations for vehicles and to further drive the target of reducing CO2 emissions. Maritime applications also find benefits in the system, with a notable impact on the ecosystem and safety concerns under a strategic focus.
Compared to batteries or other hydrogen high pressure storage technologies, GKN Powder Metallurgy's metal powder-based low pressure hydrogen technology presents one of the most effective ways to store the energy over longer periods in compact tank sizes suitable for the residential sector. Keeping this in mind, there are strong advantages to using hydrogen in combination with renewable energy sources.