GKN Powder Metallurgy at Dritev: Think Electrification. Think PM.
When technical changes are imminent, it´s important to have your radar wide open for new developments and technologies. As GKN Powder Metallurgy's product portfolio grows for vehicle's electrified systems and subsystems, we find the Dritev conference is a perfect match to highlight the need of exploring opportunities in the electric vehicle transmission.
The well-known VDI Transmission Conference has changed its name to Dritev - standing for drivetrain, transmission, and electrification in vehicles. Additionally, the event will be complemented by a separate conference named "E-Drive," taking a wider focus one e-mobility and general electrified systems in the car.
GKN Powder Metallurgy has always been at the forefront to drive innovative designs and processes for metal shaped solutions. Developing and manufacturing components for electrified systems and subsystems has been key driver for this. That's how we formed our motto for our stand at this year's event: Think Electrification. Think PM.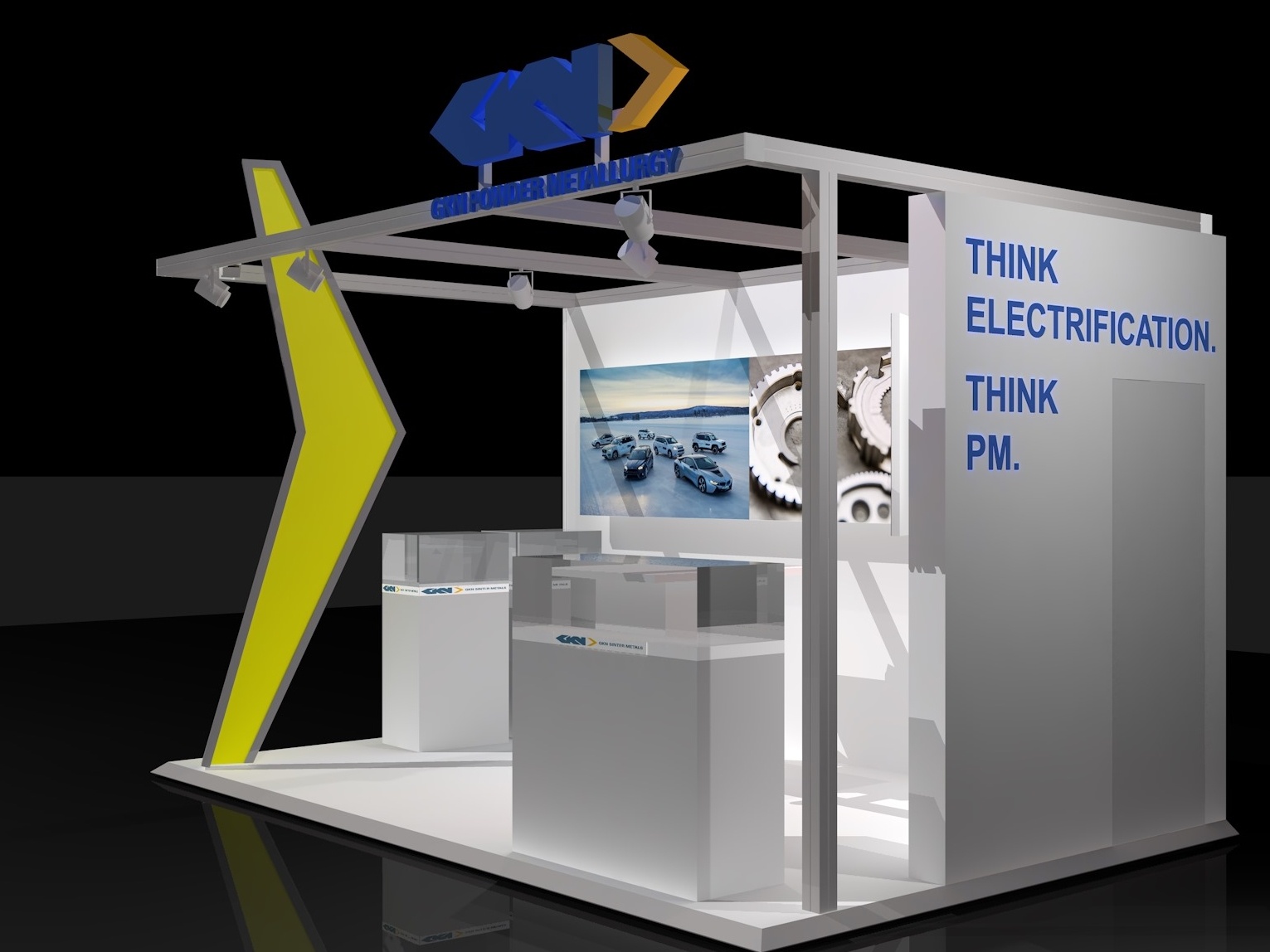 GKN Powder Metallurgy will exhibit at the Dritev Conference at Booth 115.
What´s the story behind our motto?
Our powder metal manufactured products currently span from components used in various X-by-wire applications (e.g. brake-by-wire, shift-by-wire and many "comfort-by-wire" applications) to soft electromagnetic material-based actuation components and very compact and lightweight full-PM g-rotor pumps for lubrication, cooling or aggressive additive liquids. Many sintered PM products have successfully been used in different electric sub-systems for years: PM technology is already a contender in the electrified vehicle world.
At Dritev we will present and discuss further applications where PM- based products can help to make electrified systems even smaller, lighter and performance-driven. We spoke to a few of GKN Powder Metallurgy's engineers who will be present at Dritev and are looking forward to demonstrating the exciting new developments from GKN Powder Metallurgy.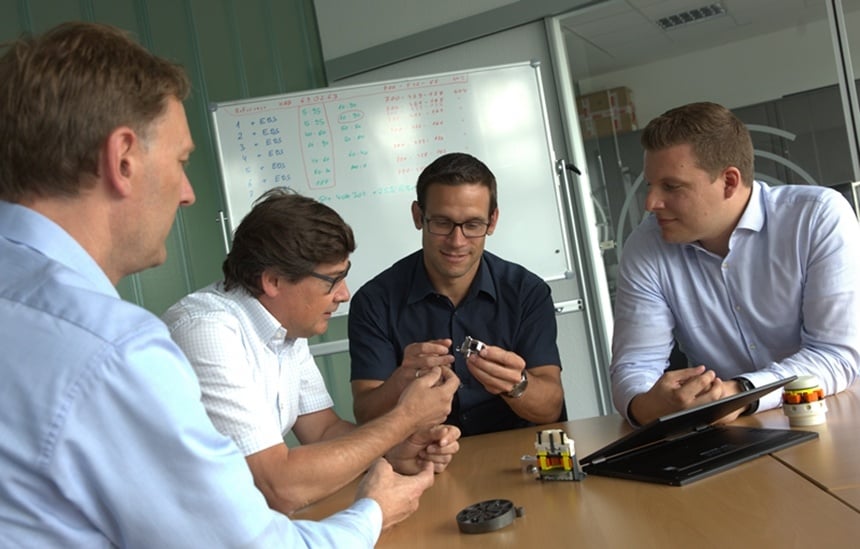 Experts round table discussion on powder metal shaped components for automotive electrification.
Small but powerful and heading for the races: our latest small integrated e-pump
Question: Stefan Tiller, you have been leading a team that has just completed the development of an exceptionally small soft magnetic composite (SMC)-based e-pump for a potential application in electric race cars. What is different with this pump compared to others?
Tiller: The obvious difference is the very compact size of this lubrication oil pump. The pump is only 55 mm in diameter and weighs only 370 grams, which is 10 percent lighter compared to benchmarks that are currently in use. Based on our innovative concept for integrated e-pumps using an SMC-based axial flux motor (AFM), it delivers 7 liters per minute at 4 bar. To achieve this, the pump contains a large variety of PM parts - from conventional sintered steel for the G-rotor set and housing to the SMC-based e-motor parts and an AM-printed housing.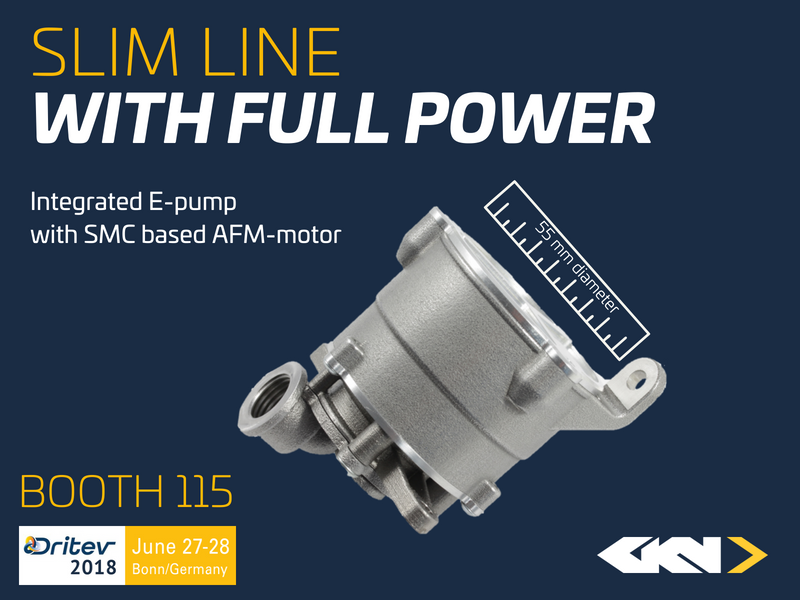 Secondly, this is a fully working prototype with all components developed and produced in cooperation of three of our engineering competence centers. In a joint project, our design teams for pumps, e-motors and AM have completed this project in only 13 weeks. We started with base information like volume and pressure demand, oil quality, maximum build space and power supply. I believe this is a perfect demonstration of the extensive design and engineering support we can provide our customers to drive the further development of compact and lightweight designs with our innovative e-pump and e-motor solutions.
Using AM to reach beyond prototyping applications
Q: We've mentioned the advanced AM capability of GKN Powder Metallurgy. Kevin Kröning is a member of our AM GPC Engineering team who manages all engineering aspects for order management. Kevin, is prototyping still the predominant application for metal printing?
Kröning: The benefits of AM for prototyping are outstanding and many of the orders we receive serve the prototyping and product development processes of our customers. Based on our advanced materials for AM and our versatile, smart production network we can realize and ship new orders within a two-week period.
However, as the technology develops quickly, we have realized an increased interest in the industry to consider the technology for mini and small series quantities (racing and high-end niche products). Engineers in these segments are keen to take the full advantage of the 3D design freedom that AM can offer. Examples for this are our projects with Porsche Engineering to develop an AM-optimized weight saving differential housing and the recent cooperation with the TUfast formula student racing team.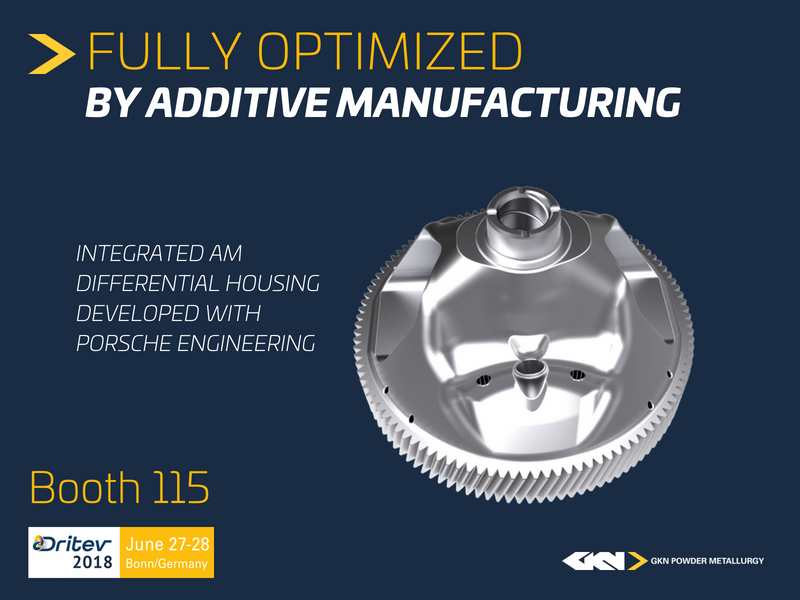 Another completely different market gaining attention right now is AM-manufactured induction hardening coils. The unparalleled design freedom combined with the enhanced heat exchange and electrical/thermal conductivity of our materials offers new opportunities to improve the hardening process and make tooling more efficient.
Forged PM: extending forging technology to maximize recuperation and net shape intelligence
Q: Forged PM (FPM) drivetrain components are another showcase at our stand at Dritev. We recently explained the general features and advantages of the FPM technology in another article on the blog: you can catch up here. Andreas Zeller, your team is developing products based on a warm net shape forging operation in combination with unique metal powder materials. Can you give us a short summary of the key advantages of FPM manufactured parts in drivetrain applications?
Zeller: With FPM, we look at our parts from different angles. The performance aspect comes first: the need to gain back energy from recuperation adds another challenge to a component´s performance for the electrified drivetrain. It´s a simple formula: recuperation capacity extends driving distance, which is mandatory for customer acceptance, low battery weight and cost.
To satisfy the changes in load conditions, traditional components need to be built larger and heavier. Using the FPM process, we produce parts to enable more recuperation in the same built space.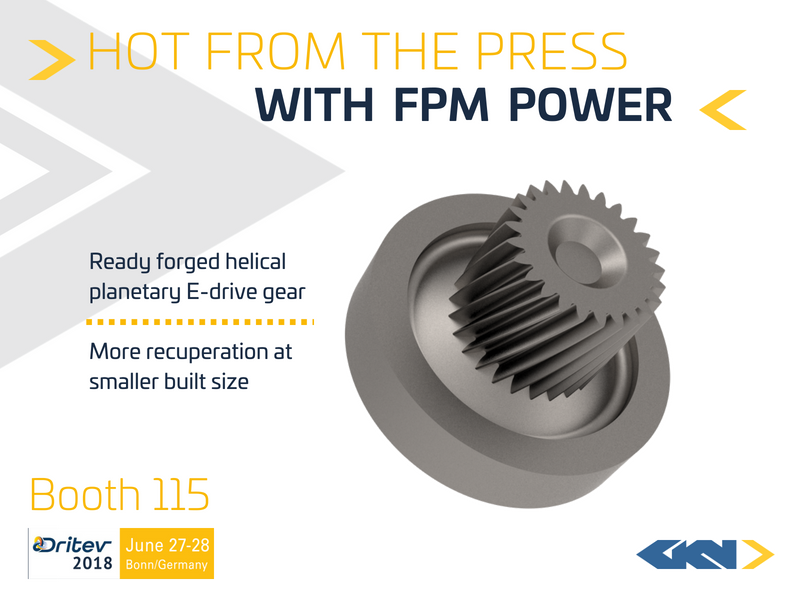 On the other side, we are keen to achieve shorter and more efficient manufacturing processes. Our latest development for a ready-forged helical planetary eDrive gear is a good example of this. Working with our customers, we always try to optimize and implement further net shape, value-adding features like integrated lightning holes in parking gears, ready-forged splines in disconnect clutches or ready-forged functional radii on hypoid gears. Combined with better raw material utilization, this further drives our competitive advantages.
Gears: the right team for "intelligent" PM-based E-drive gears
Q: One of the topics to receive great attention during last year´s transmission conference was the potential of PM-manufactured transmission gears for E-drive applications with NVH improvement. Gerd Kotthoff, you are leading our gears competence team. What are the latest developments on this subject?
Kotthoff: We have demonstrated the potential for NVH improvement in PM-manufactured E-drive gears in recent tests. Now, inspired by feedback we received from the industry, we continued investigating further improvement potentials for our concepts. Cooperating with leading research institutes like the WZL in Aachen and intensively using our in-house NVH test bench, one of our recent projects evaluates the influence of geometry and density of the gear body on the damping behavior of the PM gear.
Through the last months, we have been developing a unique FEA-based modelling approach to design the microgeometry for our surface densified gears. This is key to achieve the lowest excitation from the gear mesh while transmitting the torque at the typically high RPMs. Now understanding the loading situation for the gear, it is easy to define the NVH tailored crownings on the tooth flanks that we need to apply during the final gear grinding. We are also continuing our work to improve the damping behavior of different "intelligent" gear bodies, and the latest results support our initial thoughts. We are thrilled to discuss first insights to these studies with our visitors at Dritev.

Stefan, Kevin, Andreas and Gerd: thank you for the sneak preview on new products and developments you will discuss with visitors at our stand at Dritev. We all look forward to further discussions at our booth No 115 at Dritev: you won't want to miss it!