GKN launches Industry 4.0 to further Innovation Culture
The term Industry 4.0 has been buzzing around the manufacturing industry, and has recently been taken from niche hype to a mainstream topic.
For GKN Powder Metallurgy, Industry 4.0 is about maintaining a competitive edge and offering increased customer satisfaction. Working along a digital business model, GKN applies latest data processing tools and implements innovative technology to further the company's mission of becoming an Innovation Culture.
We met Paul Mairl, GKN Powder Metallurgy VP Program Management & Lean, who explains why the company leaped into the Innovation Culture initiative and its GKN-specific name.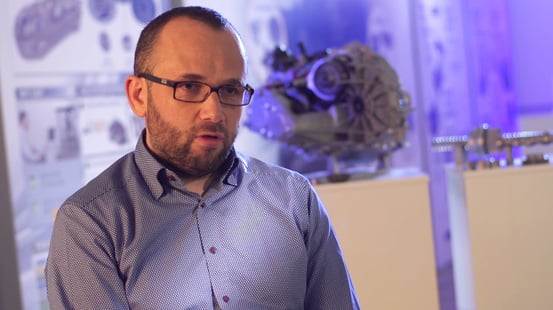 When did GKN begin the transition to an Industry 4.0 mindset?
GKN has been working on digitization and a rollout of global systems for quite a long time – even before 'Industry 4.0' became a buzz word. Data and data-driven business decisions have been a focus and became part of our PM culture. Formally, we kicked off our Industry 4.0 initiative about two years ago, based on what we have already achieved and adding new technology and possibilities.
'Industry 4.0' can be interpreted in many ways. How has GKN approached a common understanding?
First we wanted to understand what technologies were available and what new tools were being developed. Though we knew our processes and products and were actively driving innovation and development in those areas, we felt we had gaps in our organization to understand latest advances in analytics and the latest information technologies.
To close those gaps we looked for input from outside, which started our work with RocketSpace. The cooperation with RocketSpace and the embedded startups is really helping to get a better understanding of the latest tools in the Industry 4.0 world - some of which could even be considered disruptive.
Based on this experience and looking at our key business drivers, we defined our digital business model: a simple road map to identify our focus areas. For the time being, productivity has been confirmed to be our number one priority and those projects have been summarized under the project 'Karthago.'
To visually see how GKN is implementing Industry 4.0, click here.
Interesting Name – why Karthago?
Karthago is the German name of the Tunisian city Carthage. Carthage, meaning "new city," was initially founded in the 9th century B.C. by Phoenician colonists at the Gulf of Tunis. From the 6th century onwards, it developed into a great trading empire covering much of the Mediterranean and was home to a superior civilization. Carthage was based on a very holistic and sophisticated planning of the city and was perfectly connected to the world.
Connectivity and digitization will lead to new ways of working and work-life integration. We found this suitable for a project with the strap line "shop floor of the future."
What have you achieved on your journey so far?
GKN has been investing into the rollout of a global IT system and machine connectivity. More than 1,600 machines and 800 digitized measurement places and tools have been connected. During the first stages, we have focused on using this data for improving our business and decision processes. Digitization and machine connectivity is useless without gaining valuable information to help improve processes and decision making.
Today, our proprietary tools provide real-time data, standardized visualization and key performance indicators to the different organizational levels.
Stay tuned for more on GKN's venture into the Industry 4.0 movement. To read more on GKN's partnership with RocketSpace, click here.