GKN explores hydrogen storage systems in residential homes
GKN Sinter Metals is known for its expertise in components used in automotive and industrial applications. As a part of being innovation-leaders, a team of engineers have started a new chapter to drive innovation that changes the way people live – quite literally.
Project leader Dr. Nils Bornemann and his team have launched a project to use PM technology for energy storage in residential housing applications.
We spoke with Nils, Director of GKN Sinter Metals Advanced Products, in the South Tyrolean Alps to learn more about the project.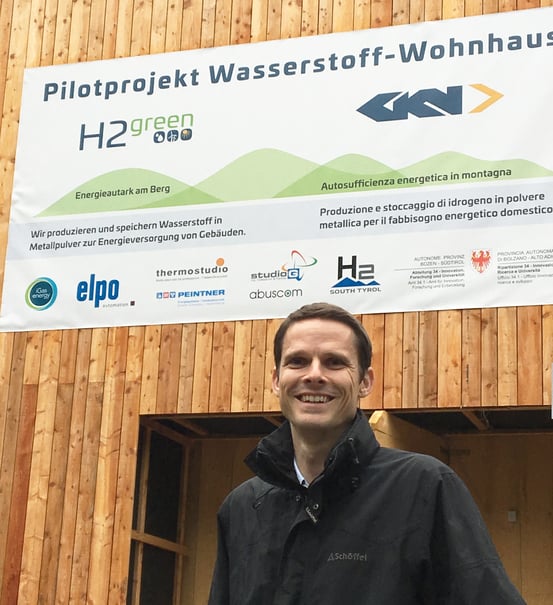 Nils, we are here at about 1,400 m sea level sitting in front of an alpine chalet with origins dating back over 300 years. What brings us up here?
GKN Powder Metallurgy is setting up a demonstrator of a hydrogen-based energy storage system using metal hydride powder. It has been known for decades that metal hydrides – or metal powders in other words – work well as a storage medium for hydrogen, which can be produced by and transferred to electrical power.
However, the production and transfer process is complex and, for a long time, didn´t feel attractive for engineers when looking at real applications and energy storage alternatives. In the light of the strong move toward renewable resources and CO2 reduction requirements, we believe it is worth reviewing the idea.
Does this type of mature technology require a mature house to bring to fruition the innovative idea?
You are right: if this project was only about proof of evidence of the basic concept, this could be done in one of our innovation centers. We have actually tested and prepared the general concept there in recent years.
The main reason for choosing this house is the almost-perfect setting. It was by chance that we found this place, which had received the right to produce its own electric turbine power from a nearby river. This allows us to build an off-grid solution for a residential house. Our system will be a local zero emission, integrated power and heat supply station.
There are strong initiatives underway by automotive manufacturers to integrate renewable energy production with local battery walls at residential houses. What is the greater benefit of hydrogen stored in powder metal?
A strong argument was to take a fresh look at metal hydride storage and to choose this house for our pilot. Being off-grid all year and knowing there will be less water power available in winter compared to summer is another challenge. However, the potential seasonal energy transfer is a great advantage of metal hydride based hydrogen storage compared to both conventional battery technology and regular gas hydrogen pressure tanks.
On the latter, seasonal storage requirements would outsize the initial metal hydride setup almost by a factor of ten whereas battery systems for long term storage suffer from self-discharge.
In combination with size challenges, cost would escalate and safety aspects would become predominant.

How does this GKN system work?
Electric energy is generated by a river-connected turbine. Our system uses some of this permanent energy flow to produce hydrogen in an electrolysis process, which is the first sub-system. Hydrogen storage and the conversion back to electricity using a fuel cell are the other two subsystems. Bearing in mind the on-demand supply requirements with sudden peaks and lows, this results in a complex system with many interdependencies.
Follow along with GKN engineers as they improve the system to compensate for efficiency losses through conversion in the second part of this interview with Nils in the near future.