GKN expands transmission design boundaries with PM technology
At the upcoming CTI Symposium for Automotive Transmissions in Berlin, GKN Powder Metallurgy will showcase unrivaled ideas to drive future developments for electric vehicles (EVs) and hybrid electrical vehicles (HEVs). I will join Porsche Engineering at the Symposium to present our differential housings case study.
In a study, together with Porsche Engineering, GKN engineers have joint forces in a holistic development process to deploy the full potential of latest AM technology and drive weight reductions. These teams took into consideration:
Time to market contraction
Functional integration through the technology´s design freedom
Application optimized material development
Functional and process optimized part design
The teams took up the challenge to redesign an existing GKN differential housing with the final drive ring gear, one of the heaviest units in the transmission.
The challenge: Lightweight design through 3D-printing
In a conventional differential, the ring gear and the differential housing are separate parts with different attributes, typically assembled with a set of screws. The ring gear is usually made of case hardening steel, hardened and grinded for maximum preciseness. The differential housing is normally casted and ensures the torque transfer from ring gear to center bolt and bevel gears.
The challenge for a unique lightweight design started with a generic structural optimization based on given loading condition. Instead of conventional manufacturing technologies and tools, the designers had much more freedom when "Thinking in AM." Based on the requirements of the transmission, all loads were applied to the system, resulting in the structure that can take all required loads. This new lightweight design can only be produced by AM technology.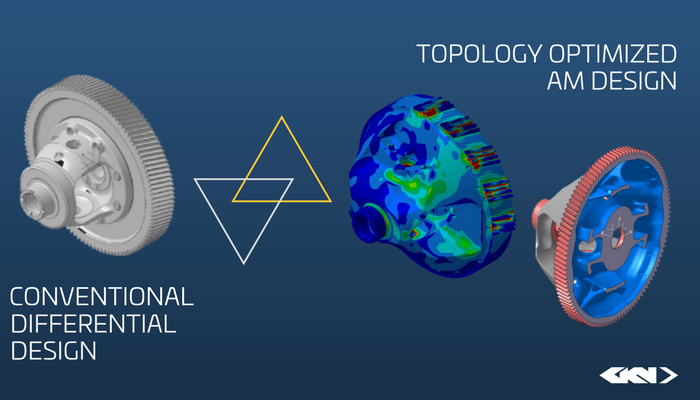 Using the additive manufacturing process and applying GKN's advanced PM knowledge in material and development, there was a significant optimization in weight, inertia and stiffness of the new part.
Our simulation results show a potential to reduce weight by 13 percent and inertia by eight percent. Looking at specific small series and high-performance applications, the replacement of conventional series parts comes into closer reach.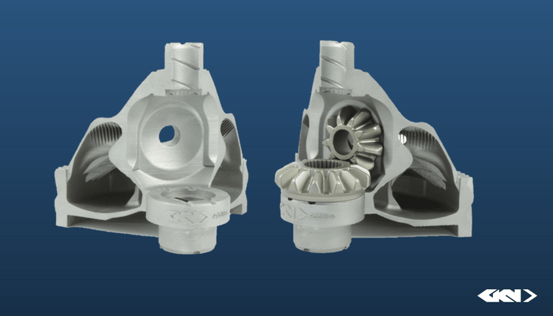 Lightweight AM differential housing with FPM differential gears
Continuing the process, the teams will now consider further validations of the hardening process, final machining and testing. On top of that, the GKN R&D teams are already looking at the benefits other PM technologies such as Forged PM can bring to the transmission design.
GKN's Outlook:
Thinking of AM technology for series products requires an integrated design approach from material definition to functional design and manufacturing process know-how.
Integration of functions, optimization of structures and reducing material use will lead to lighter, more stable and designed for purpose parts.
The AM process develops rapidly. More materials will be qualified and the overall productivity of machines is increasing from year to year.
This will enable the transition from prototyping applications to small series production even in cost sensitive markets.
We are perfectly positioned to help our customers with each of these points: GKN is the one-stop solutions provider to bring together latest metal shape manufacturing processes, strong development capabilities and design support.
Visit us at the CTI Symposium in Berlin, Germany at Stand A07 from December 4-7, 2017. To attend our presentation with Porsche, join us December 6 at 11:30 a.m.