Electric pumps: An increase in vehicle efficiency
Automotive electrification started in a modest way: as convenience items, like electric windows and door locks. Now, CO2 requirements have tightened and more electrified subsystems are substituting mechanically or hydraulically driven solutions. The spotlight lands on electric pumps, which have a positive impact on the vehicle's efficiency.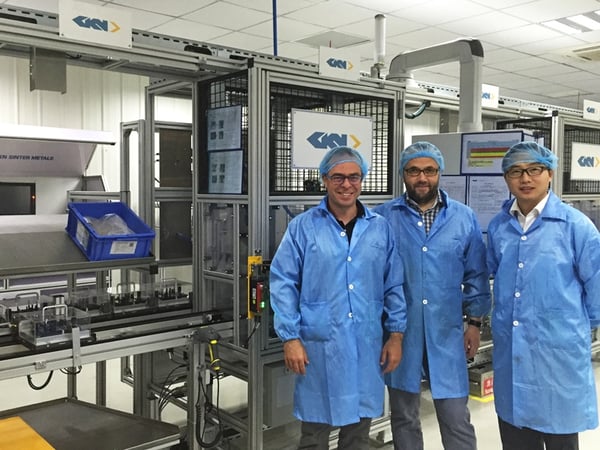 Alessandro DeNicolo (left) standing in front of the EPump Assembly Line with his colleagues Paul Mairl (middle) and Richard Lee (right).
Pumps are needed for cooling and actuation purposes in automotive engines and transmissions. Traditionally, hydraulic pumps are engine-driven, continuously providing fluid pressure. Because of this direct link to the engine, oil is flowing - even if not needed - and is especially wasted at higher RPM.
Electric pumps, instead, are driven on-demand, meaning the system is driven by an electric motor and is no longer controlled by the engine's RPM.
This technology is in high demand. Vehicles are equipped with "start-stop" technology, which switches auto off at traffic lights or in stop-and-go traffic situations. Electric pumps were one of the driving forces in the rise of more electrification in vehicles because of its ability to provide accurate fluid pressure efficiently.
The full PM Pump
GKN could improve the electric pump system efficiency even more by means of applying its Design for Powder Metallurgy (DPM) approach. What does that mean?
The GKN DPM approach decreases the number of components and uses one uniform material for the stator, rotor, housing and covers. Previously complex designs with multiple components made the assembly expensive. In addition, a broad mix of materials led to efficiency losses because of varying thermal extensions.
The advantages of electric pumps powered by GKN's PM technology are:
Improved efficiency at a lower cost
Decreased need for complex infasctructure (hydraulic tubing, belts or chains)
Easy to install (decreased assembly logistics)
Enables a constant efficiency of the pump's temperature range
Improved efficiency allows to build weight-saving electric pumps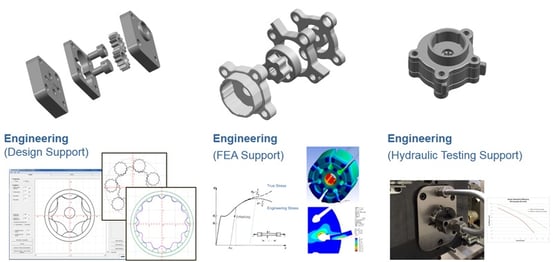 GKN supports customers in the development of smart, integrated, high performance and cost effective product solutions.
The future is electrification, and GKN continues providing solutions for future market needs. PM components hold a large stake in the progressive search for smaller and more efficient products.