GKN Powder Metallurgy brings Forging technology to electrified drivetrains
'Smaller and better' will be the key focus at the upcoming CTI Symposium USA, taking place May 14-17. As GKN Powder Metallurgy continues to produce netshape gears for the electric trend, the CTI Symposium will put an emphasis on the automotive shift to electrification.
The market's push toward drivetrain electrification poses a stronger need for high component performance with a reduction in total mass. A need for maximum driving distance and efficiency is pitted against tightened spaces and weight reduction.
GKN Powder Metallurgy's Director of Forging Technology will showcase high-performance netshape gears for electrified drivetrains at CTI.
Our forged powder metal (PM) components, like hypoid gears and differential gears, support an electrified drivetrain's needs through high durability and additional weight savings through a net shape geometry.
The forged powder metal difference
What can forged PM offer to the automotive industry? The processing of powder metal alloys allows for a wide range of combinations: abilities like traditional sintering, metal injection molding, additive manufacturing and forging technology.
Forged PM creates gears for drivetrain applications in a much more netshape geometry with powder forging steels' high cleanliness, uniformed chemistry and carefully controlled alloys. This is all due to the technology's unique characteristics.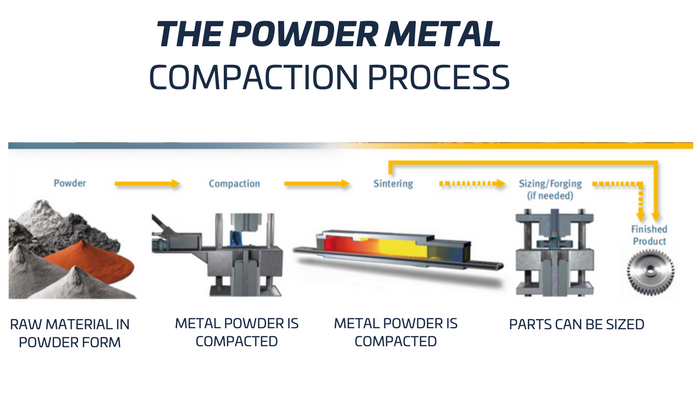 This is how it works: a preform is made from powder compaction and sintering; providing a tailored alloy consumption, optimum mass distribution, geometry and near-shape conditions to perfect the flow of material during the forging. With a single high temperature forging stroke, the component is forged to its final shape.
MPIF award-winning differential gears
GKN Powder Metallurgy's differential gears, a 2016 MPIF award winner, deliver the highest torque capacity and outperforms – and substitutes – warm forged wrought steels.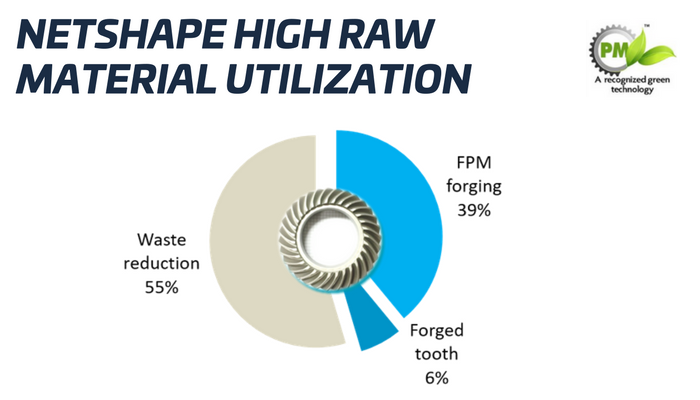 To test the gear's durability with load cycle sequences for an electrified drivetrain, GKN Powder Metallurgy engineers conducted a case study tracking the following conditions:
Gear design
Material characteristics
Variation of load cycle frequencies
Variation of recuperation torque vs. drive torque
Through the study, forged PM gears were proven to outperform traditional wrought steels and offered the potential to tighten the performance gap. It was found that forged PM gears can support electrified drivetrain applications in numerous ways:
The ability to keep 2-pinion differential designs despite additional electrification requirements
Substituting oversized 4-pinion designs with cost-effective 2-pinion designs
Increasing recuperation torque levels and driving distance
You can read more on how Forged PM materials outperform in strength and durability here on the website.