Carbon Reduction Award highlights GKN Hoeganaes' carbon footprint commitment
What role does the manufacturing industry play in reducing CO2 emissions? Well, the US Environmental Protection Agency reports that Industry (goods and raw materials producers) account for roughly 22 percent of total greenhouse gas emissions generated. Of these emissions, 65 percent are carbon dioxide. Industrial processing and its consumption of fossil fuels has a major impact on CO2 emissions, creating a significant opportunity to drive reduction efforts.
The United States Environmental Protection Agency reports that 22 percent of total U.S. greenhouse gas emissions are consumed by the Industry economic sector.
At GKN Powder Metallurgy, reducing our carbon footprint is a top priority. Demonstrating this thought process, GKN Hoeganaes has placed its focus on energy usage during its peak production time to monitor its environmentally friendly impact.
The GKN Hoeganaes team in Gallatin, TN has recently been acknowledged by the Tennessee Valley Authority (TVA) with the Carbon Reduction Award for its conscious effort in reducing its carbon footprint. As one of eight companies in the Tennessee Valley, GKN Hoeganaes was recognized for having a "significant impact on carbon reduction as a result of lowering its peaks in demand (TVA)."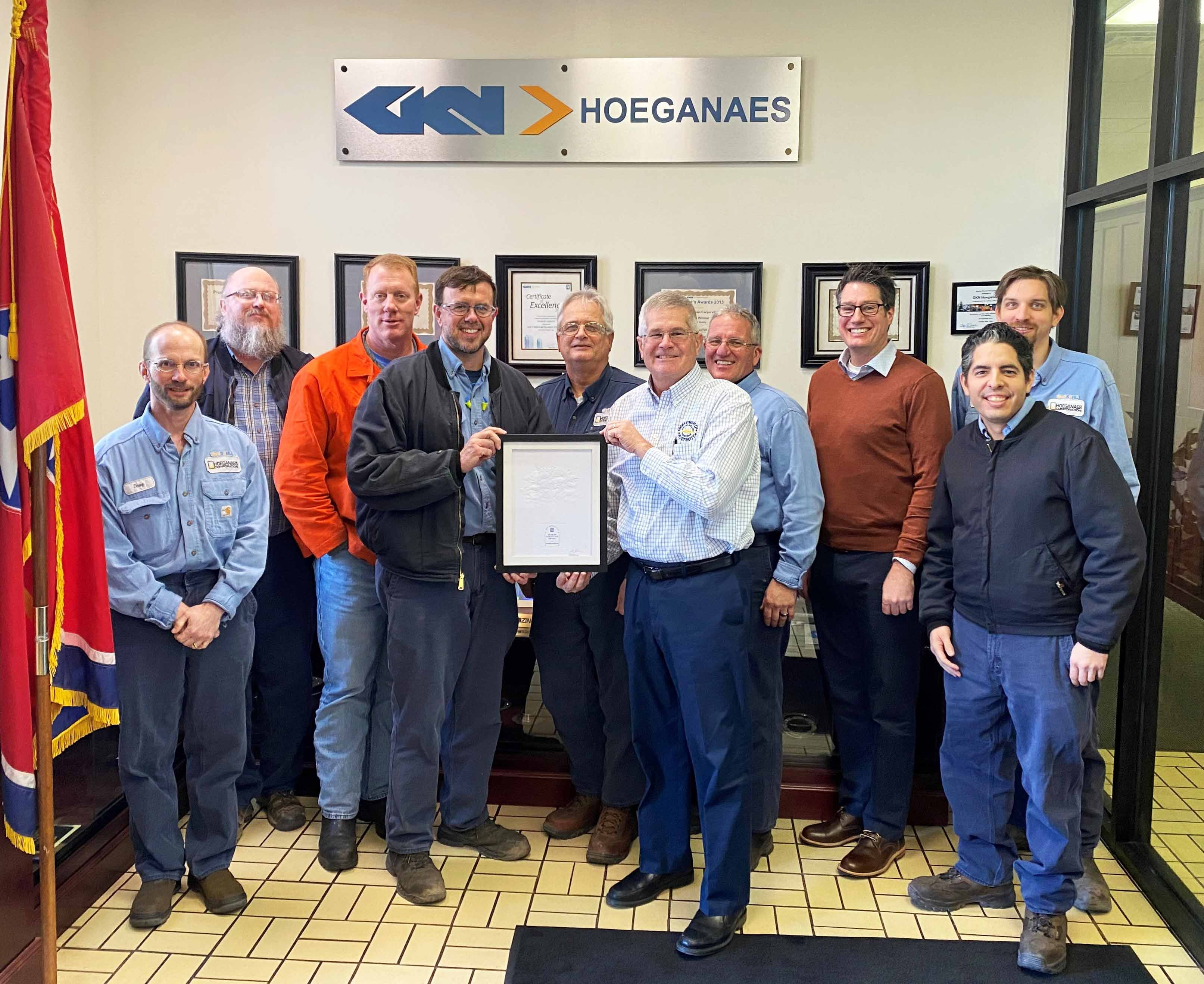 Members of the GKN Hoeganaes team with the TVA Carbon Reduction Award, rewarded for the team's efforts in reducing GKN Hoeganaes Gallatin's carbon footprint.
The TVA, an organization dedicated to modernizing the Tennessee Valley region's economy, provides electricity – among other economic developments - to business customers and local power companies in seven southeastern states. Known as one of the most efficient organizations in the country, TVA has reduced its CO2 production by modifying its power generation through a carbon calculator and recognizes companies who make notable efforts in energy consumption.
Over the last three years, GKN Hoeganaes has reduced its electricity usage by 183.04 lbs CO2/kWH by monitoring its overall peak load. To determine peak load, GKN and TVA monitor the CO2/kWH power used during its peak time compared to other energy consumption types like nuclear or hydro. By reducing peak loads, we achieve lower consumption of CO2 emissions.
In February 2019, GKN Hoeganaes Gallatin implemented a program with the objective to significantly reduce its energy demand. Comparing maximum demand pulled over one month (max demand), to the maximum demand pulled for a daily six-hour window over that same month (peak demand) they identified opportunities to reduce energy usage.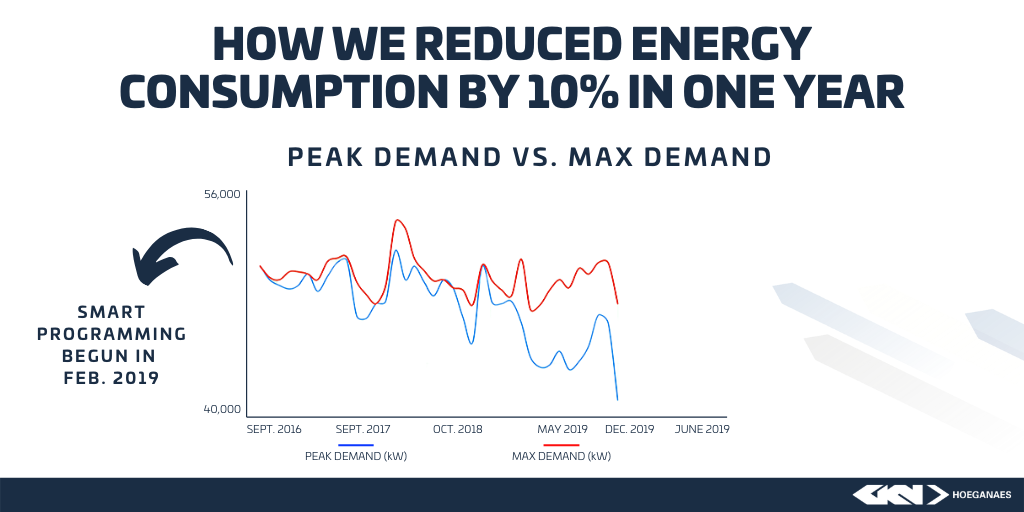 GKN Hoeganaes runs a smart manufacturing programming that automatically cuts back on energy usage, during peak demand. This programming triggers the Electric Arc Furnace to reduce loads when the system predicts it will experience excessive energy usage. The energy savings program implementation created a 10 percent reduction in peak demand. Along with a reduction in energy usage, GKN Hoeganaes observed significant savings in the power bill.
Manufacturers will continue to feel pressure for a more efficient carbon footprint as renewable energy sources take a larger stage. Are you choosing a supplier with an objective for reduced CO2 emissions?