AM development: How Titanium expands production possibilities
Conventionally manufactured titanium alloys components require costly commitment. Advancements in metal 3D printing now allow toolless production of titanium alloys to reduce time-to-market and post-machining operations. To fully reap the benefits of titanium alloys in AM processes, customers need to look beyond traditional wrought materials.
With extensive history in creating custom alloys for large volume production, the GKN Hoeganaes and GKN Additive Materials teams continue to push opportunities in the customization of titanium alloys for AM production. Support on these projects includes working with various bar stock suppliers to obtain the right feed material to atomize the appropriate alloy system, fully characterizing the powder and helping to provide support where applicable.
We sat down with George Bernhard, Engineer for GKN Additive Materials, to discuss GKN's growing operations in titanium and how specialty titanium alloys will be the hidden growth factor for AM developments.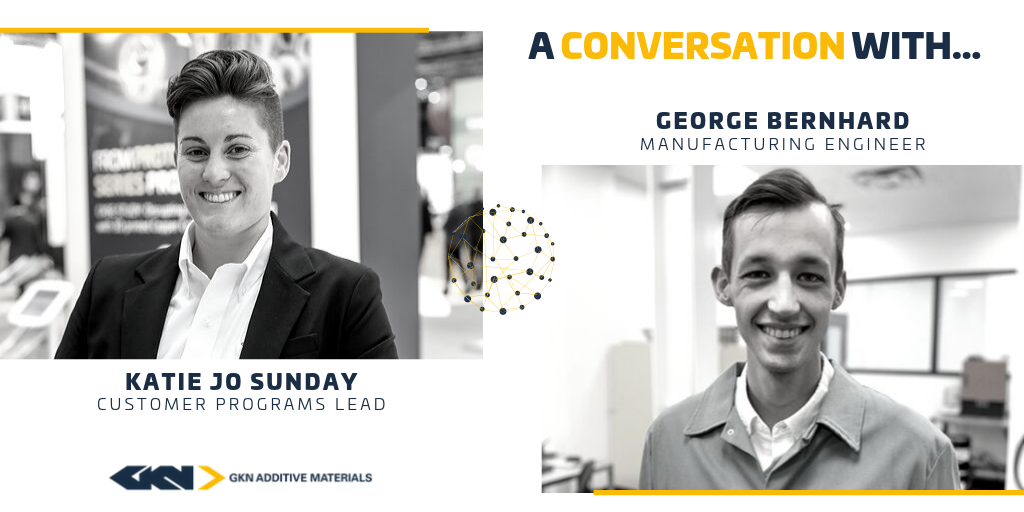 If you are interested in learning more on titanium alloy properties, you can join George's presentation at the upcoming PMTi conference Sept. 24-27 at the University of Utah.
George, tell us about your role and responsibilities at GKN Additive Materials.
I oversee titanium production for GKN Additive Materials. Most of my work is focused on process improvement and continuous optimization of our current processes. We handle the scale-up of new products, like bringing in a new powder and developing new particle sizes and alloys. My responsibility is to get this information into our production system and to create new standards and procedures for maximum efficiency.
Do you see high demand and growth opportunities for titanium materials other than Ti64 and CP Ti?
Yes! We have seen growth in high temperature alloys such as Beta 21S, Ti-5553 and Ti-6242. These are very useful for applications at elevated temperatures for extended periods of time. Beta 21S is particularly useful for its high corrosion resistant properties, potentially for applications with corrosive fluids like saltwater or aerospace-specific Skydrol hydraulic fluid.
What are some of the alloying elements at play with these specialty titanium alloys?
These alloying elements are Chromuim (Cr), Molybdenum (Mo), Niobium (Nb), Tin (Sn) and Zicronium (Zr), but we've also seen growth in shape memory alloys, which is a nickel-titanium alloy. The shape memory effect is the ability to undergo deformation at one temperature, then recover its initial undeformed shape upon heating above the transformation temperature.
These shape memory alloys can be beneficial in medical applications such as stents and orthodontics. We also believe this is a great overall growth area where additive manufacturing can really be utilized.
What are the benefits of a diverse line-up of titanium alloys?
The biggest benefit in titanium alloys is the increased material selection. With this, we can broaden the scope of what customers are able do. We provide customers with a large variety of alloys so they can best utilize the advantages of additive manufacturing to create the greatest possible range of products. This allows them to go above and beyond what they are typically capable of doing with conventional, commercially pure Ti and Ti-6Al-4V. There is room here to really explore what alloys work best for additively manufactured applications.
What is an important factor to focus on when processing titanium powder?
Something to always keep in mind is the purity and quality of the powder. A very high level of quality is needed for products in aerospace and medical applications. We diligently worked to develop a system to eliminate cross-contamination and implement the right procedures and techniques to consistently provide the same powder properties time-after-time.
Since contamination is a concern in titanium processing, what should a customer look for in a powder supplier's system?
Any powder contamination risks the material's chemistry and changes its properties. Typically each material is made to a specific standard set by the industry, a customer or a direct powder supplier, so any change to the standard is unacceptable.
We use a refractory-free process in our electrode induction gas atomization (EIGA) atomizer, which ensures no contamination pick-up from our liners because our molten metal does not touch any refractory or anything in molten state. This can be an issue with other induction furnace systems. In addition, proper clean-out procedures throughout the process are in place to reduce the risk of contamination from previous lots.
Let's talk about the research you will be presenting at the PMTi Conference in September. What is your topic on?
I'll be presenting the work this team has done to bring new titanium high-temperature and high-strength alloys to the market. Included in this material development are the materials I mentioned previously: Beta 21S, Ti-5553 and Ti-6242. These are available in both laser powder bed fusion and electron beam applications. We extensively studied the as-printed and heat- treated properties of these various titanium alloys, so I will be presenting on our results and how they can be useful for our customers.
You mentioned these are available laser bed and electron beam-based AM applications – what is the different between the two?
For laser-based AM processes, the powder will be much finer, typically a 20-60 micron. For electron beam-based AM processes, you will find powder to be in the rage of 50-100 micron, depending on the energy source needed. There will also be minor chemistry differences related to oxygen content with coarser powder containing less oxygen, but we can vary our feed material to adjust for what customers need.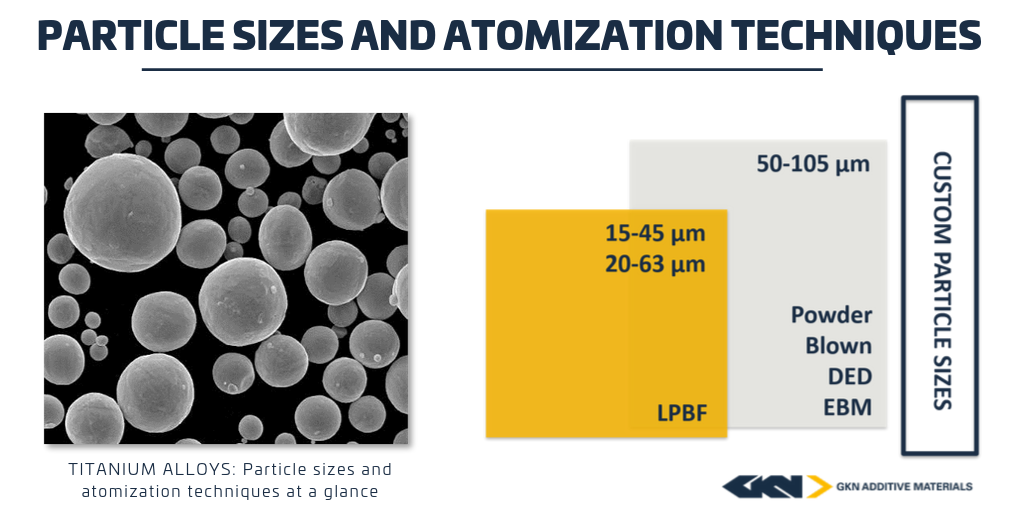 What are you most excited for at the PMTi Conference?
I am really excited because this will be the first time the PMTi conference is in North America. I am eager to use the opportunity to promote our titanium powder capabilities and meet with new customers and partners for collaboration on the technology.
It is inspiring that we finally have a powder metallurgy conference focused on titanium itself because it's typically overlooked at other conferences even though it's such a growing area in the AM market. It will be great to get on stage and teach others about what we've been doing and how we can help them with their processes. This will also be a fantastic opportunity to talk directly with potential customers and hear about their current challenges, what they're looking for in powders and see where we can collaborate for improvements.
George will present on the characterizations and behaviors of high temperature titanium alloy powder by comparing powder properties, as-printed and heat-treated mechanical properties for use in high performance applications. Join George and the GKN Additive Materials team at the PMTi Conference from Sept. 24-27 at the University of Utah.