4 Tech Trends to look out for in 2021
2020 was a reminder to prepare for the unexpected. We watched the manufacturing industry evolve through disruptive supply chain demands and still deliver revolutionary new technology to the market. Manufacturers were tested for their efficiency, speed and innovation as many industries faced record-high competition.
After an unpredictable year, it's all eyes on the future and looking forward to 2021. From new technology to manufacturing innovation, we will continue to support our partners and customers in the industries within our key markets: Additive Manufacturing, Electrification, Hydrogen Storage and Industry 4.0.
As we look at the year ahead, what can manufacturers expect to face in each of these industries? We sat down with our experts across the business for exclusive insights on the trends and technology to keep an eye on this year.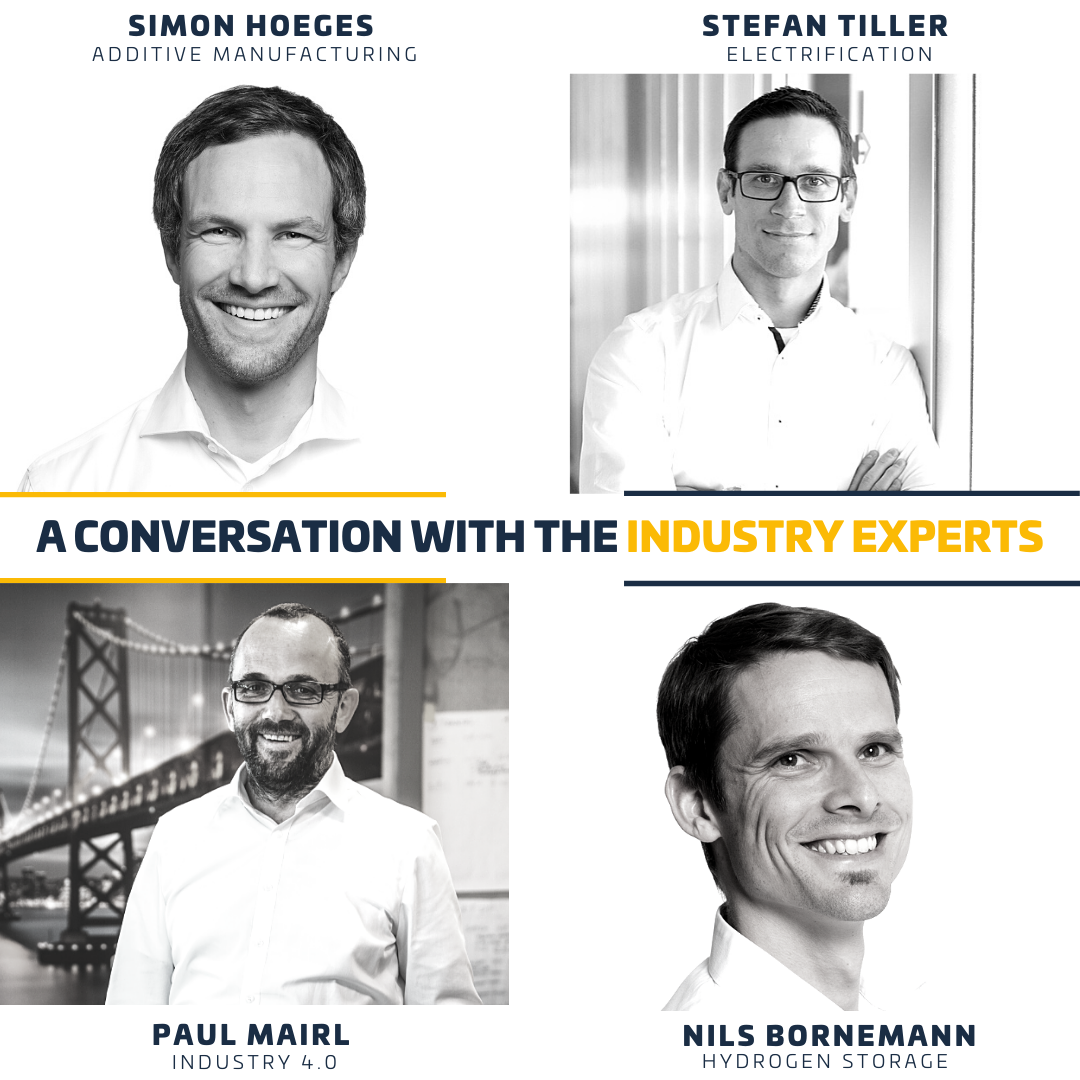 These are the four questions we posed to our industry experts:
Q1: Heading into 2021, what do you see as the key technology challenges that need to be addressed?
Q2: What work are your teams doing to address these challenges and what impact will this have for the industry and its end users?
Q3: We are seeing rapid changes in your industry. How do you see the market developing in the next 5 years?
Q4: How do you stay informed about your focus area? What resources and media would you recommend to others to stay up to date?
Look out for: The industrialization of Additive Manufacturing
A1: Additive Manufacturing is in the transition phase from R&D and prototyping to serial production. This requires more effort in industrialization to enable a robust and standardized supply of serial parts. On top of this, a significant amount of business cases needs to be available for the production cost could be reduced by a factor 10.
A:2 The strong focus across all teams within GKN is to increase the level of trust our existing and new customers have in this technology. Within production, we are continuously improving and standardizing our process workflow to ensure good and repeatable part quality. Our engineering team assists customers in choosing the right technology for the right product and supports them, so they receive the most out of the design freedom the technology offers. In R&D, we especially focus on the younger technologies in our portfolio, like Binder Jetting, to significantly improve production throughput.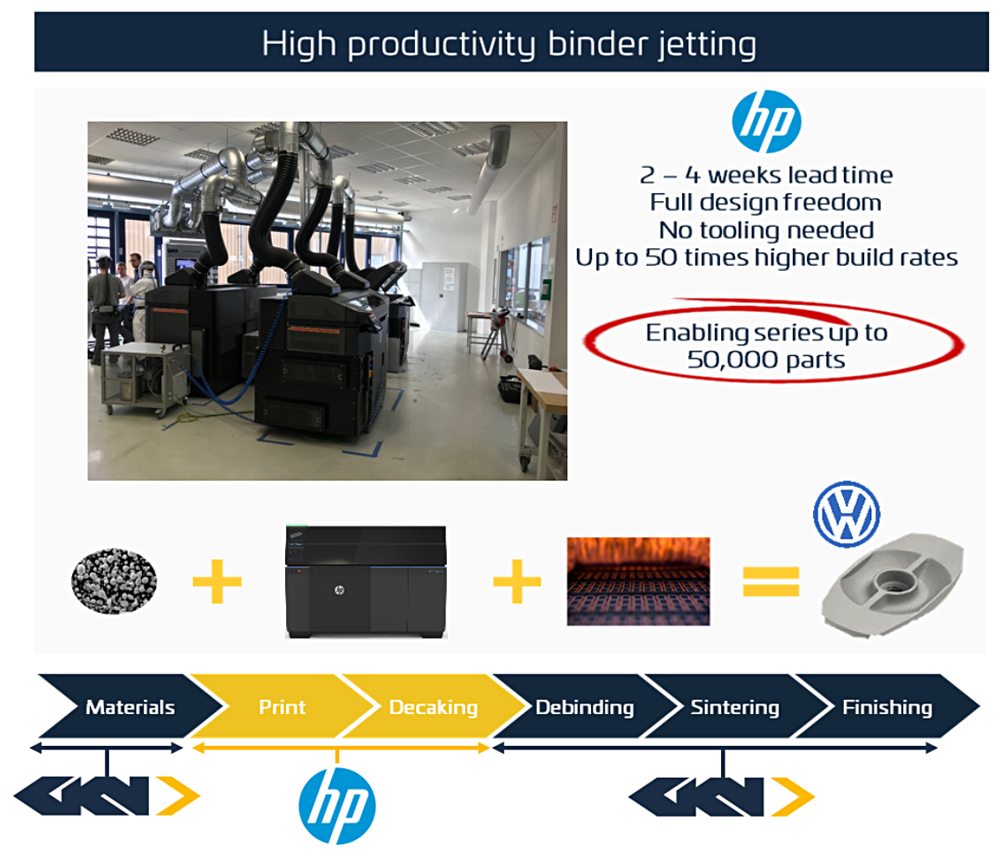 HP's Binder Jetting process will lead to up to 50 times higher build rates, which enables series production in the range of 50,000 parts.
A3: We currently see a lot of technical startups with great ideas based on innovative product designs. Often the culture within these companies is more open to utilizing new technologies like Additive Manufacturing to enable applications that weren't previously possible, giving them a strong competitive advantage. With the success of innovative and agile companies, more serial use cases will create more trust in the technology and convince traditional industries like automotive to adopt the technology as a serial production alternative.
Ready to take your production to the next level? Get in touch with our Additive team here
A4: Unfortunately, during COVID-19, there were no trade shows or industry meetings. This led to a strong pull for new digital concepts that enabled networking and e-learning on digital platforms. I recommend using these platforms along with larger trade shows for networking and new product launches once we can safely attend these again.
Look out for: The expansion of e-mobility applications
A1: In 2021, we will take 2 key steps to bring our e-motor designs into different customer series products. For the torque drive application, we will supply the first fully GKN designed, validated and built transverse flux motor (TFM) prototypes for a customer's application.
Several e-motor kits (electromagnetic subsystem) for e-pump & e-actuator products will also launch this year. Both projects will challenge our team to industrialize and prove our advanced soft magnetic composite (SMC) stator production concepts to be a robust solution for highly complex e-motor designs.
Explore more opportunities for powder metallurgy in electrification here
A2: We have developed some new production concepts and quality routines that allow for cost efficient, robust manufacturing for three-dimensional e-motors. Our team is working to demonstrate the benefits of our products in various applications with high product reliability. This will bring more compact e-motors to our customers, enabling them to offer smaller and more efficient products to end users in various areas of mobility and home appliance applications.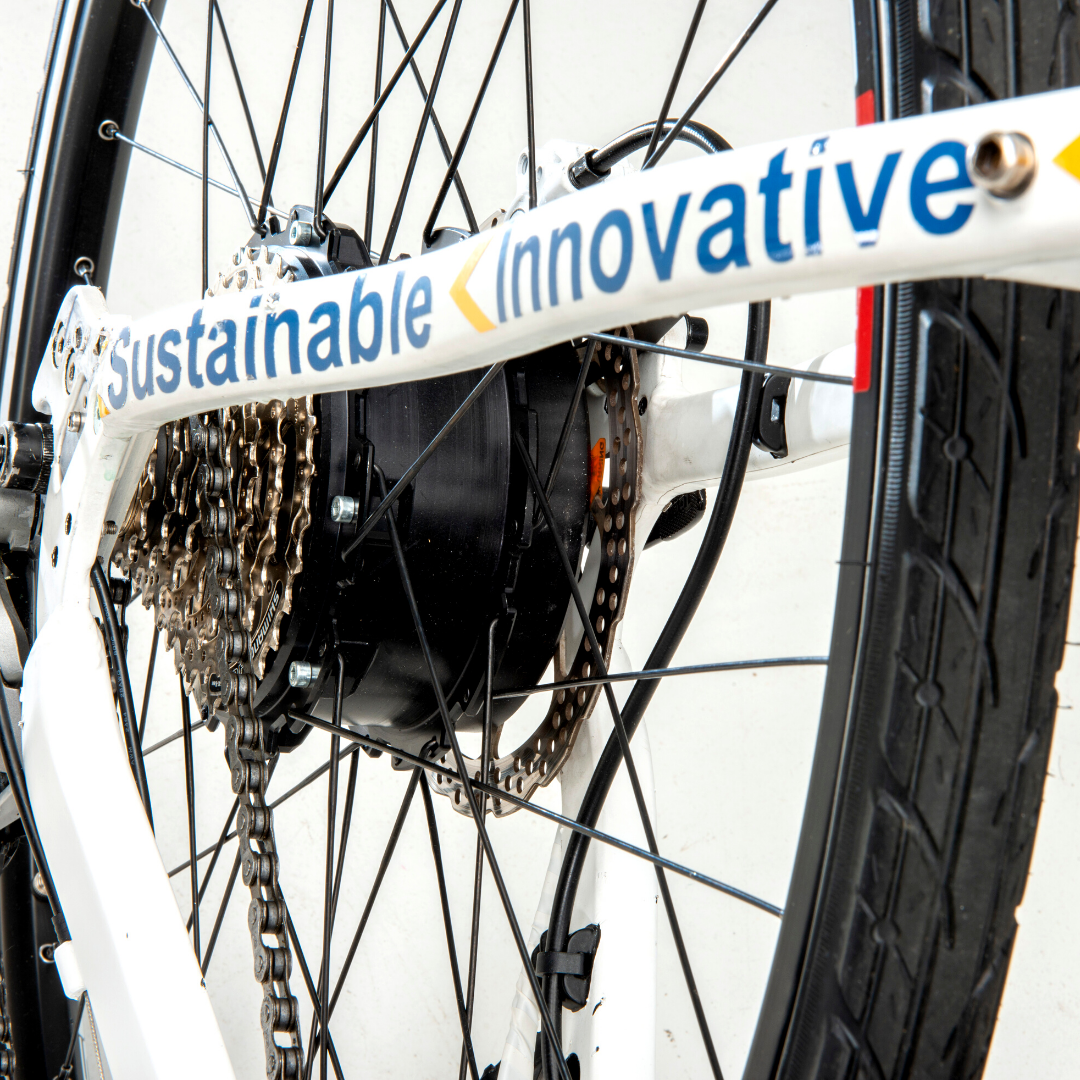 Transverse flux e-motor design for e-bike application showcases the possibilities for compact and high performance systems in powder metallurgy for e-mobility applications.
A3: The market will keep growing quickly and it will also begin to diversify. E-mobility systems will not only bring electric cars, but also various kinds of new mobility concepts. E-bikes in Europe, drones in the forestry industry, and unmanned transporters for parcel deliveries are only a few examples. This differentiation will create a demand for more specific electric traction drives that are customized for the specific needs of specific applications.
A4: Being close to key developers in our target areas is key for us. With the ability to differentiate from conventional e-motors, we need to be involved early in customer developments. Building and utilizing connections with academic and industrial development departments is one key resource. Traditional platforms like trade shows and conferences are also important for us. I am also involved in professional interest groups and expert discussion groups on social media platforms like LinkedIn and Xing, which are becoming more relevant in staying close to the latest developments.
Look out for:

The rise of alternative energy storage
A1: On the topic of hydrogen, we will face the strong challenge of setting up the serial production environment for our systems to produce the first 10 units. Evolving from part supplier to system integrator and supplier will be our biggest challenge.
A2: We have to work closely with our partners to address all various sub-systems and components and their interfaces. GKN will be one of the first companies to offer scalable H2-based turnkey energy storages to the market. End users will get an alternative to large battery storages solutions.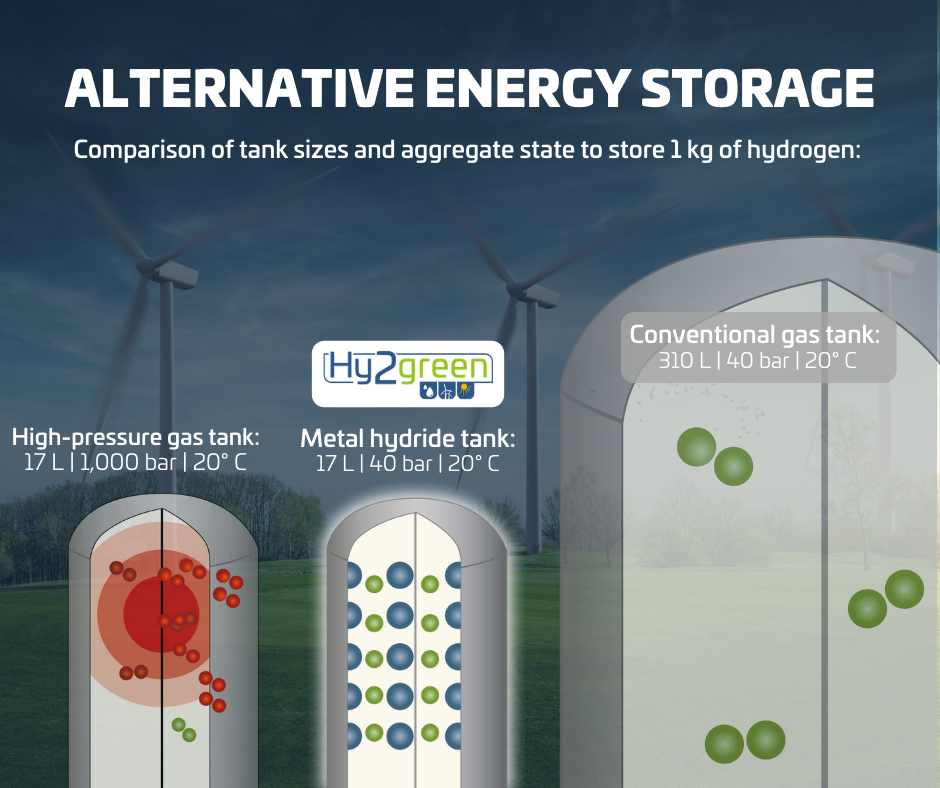 Conventional hydrogen storage tanks are large in size or are under high pressure, both of which are safety risks. GKN Powder Metallurgy's Hy2Green storage tanks put you on the safe side while effectively storing energy.
A3: The market will strongly look for alternative technologies apart from batteries for energy storage. Raw material issues and the negative environmental impact of the production of batteries will be the drivers here. We see a 1-3-year period where H2-based energy storages will be analyzed and installed for validation purposes. After that, we expect an increasing demand for this technology, which is when costs and economic scenarios have to meet expectations. Then, hydrogen systems will replace diesel-gensets and battery storages in various environmentally sensitive applications.
Get in touch with our Hydrogen Storage team to learn more and explore your possibilities
A4: Diversity is key. I look for early announcements on social media, where you get the information companies and competitors want you to receive. We follow scientific journals to understand new developments of public research where the majority of the R&D budget is spent. The mix of information is important.
Look out for: Automated processes and digitization
A1: Actually, I don't see too many technology challenges, but our key focus will be more related to upgrading our skills and competencies and aligning our organizational structure and ways of working. Technology is developing really fast and offering many new solutions, but we are struggling to adapt and change at the same speed. Some additional effort and commitment will be required by everybody in order to further boost our digital transformation.
A2: We need to foster our digital culture and make people more a part of this important process. Digitalization is not just business related; it also has a huge personal effect. New skills and competencies are required, so we need to make digitization more personal for our people. People will have to adopt to a new way of working, including learning self-enhancement techniques, sharing a transparent work culture and working through a data-driven decision-making process.
GKN Powder Metallurgy Chief Digital Officer Paul Mairl explains how manufacturing companies can leverage smart manufacturing and digital processes to optimize work flow. 
A3: Digitalization is moving very fast, so I would rather focus on the next 2-3 years rather than 5 years. We will be seeing more mobile apps and process automation. Employees will be more focused on designing systems and solutions rather than doing daily repetitive tasks. Creativity and complex problem-solving skills will be key to differentiate against competitors.
More to read: A manufacturer's guide to driving business during production downtimes
A4: Just like in my personal life, I typically don't use just one source of information as I am trying to use different channels. I take part in various free webinars to expand my horizon on future technologies and I participate and speak at different online events such like Smart Manufacturing. I also try to have strong connections to various universities like RWTH Aachen or the technical university of Munich.