The top 4 lessons we've learned during our website redesign process
A company's website is its face to the world

24/7 and the place where potential customers go first to learn more about you and your business.

It can be the most powerful sales tool and connect your business with your target audience. But at some point every website needs an overhaul... Usually that point is reached when your site is no longer a great reflection of your brand and does not represent your core products and services or your position in the market the way it should.
For the GKN Sinter Metals site, this was clearly the case. Earlier this year we decided to rebuild our website from scratch. I have managed this project throughout all phases and want to share our key learnings with you.
Here are our top 4 best practices, that can help you during your next website redesign process:
GET YOUR WHOLE TEAM INVOLVED
Literally the first thing we did, when we kicked off the project, was to set up a dedicated cross-functional team. Within this "task-force" we've connected marketing, engineering, sales, customers services and HR - all functions that interact with external audiences. This was the perfect starting point for our journey, because having this 360 degree view and being able to leverage the experiences of people from different areas of our business, allowed us to build the best website possible.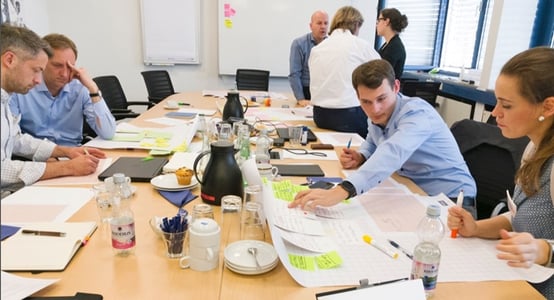 MAKE A SURVEY TO GET TO KNOW YOUR CUSTOMERS BETTER

Conducting a survey with your current customers is a quick and easy way to gain great insight into your target audience. We used our survey to understand the social media behaviour of our customers, the kind of topics they find really interesting, but also how satisfied they are in general with our service. I've created an infographic, that summarizes our key insights.
Click here, if you want to see the full infographic.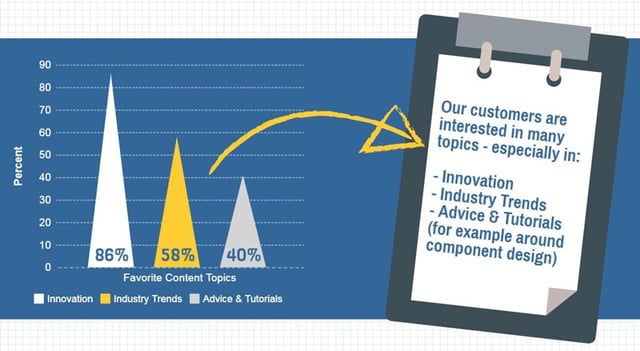 DEFINE YOUR BUYER'S PERSONAS
Your website can help you to attract exactly the kind of audience, who wants the solution you are offering.
That is your buyer persona - a fictional, ideal customer. Having a deep understanding of their goals, pain points and drivers
will enable you to create relevant content that provides the right solutions to their needs.
Conducting the survey and discussing the results within our
cross-functional team helped us to figure out our personas easily. And we also enjoyed this process - because we realized that the visitors of our website are no anonymous crowd.
GET RID OF UNNEEDED CONTENT – LESS IS MORE
Take a look at your Google Analytics to find out which pages are performing well and which pages are not working. What are the main pages that attract the most traffic? These are the pages that you should keep and rework. Refine the message, find better images and apply the new look of your website to these pages. Also take your time to map out all pages and connect them in a way that will make it easy for your personas to navigate through your site and find their most valuable content easily.
Have I made you curious now? Our new website will be launching soon! Subscribe to our blog now right below this post or follow us on social media and you won't miss when it goes live.