3 ways powder metal supports thermal management systems
As electrified and automated vehicles continue to lead initiatives of meeting automotive and emissions regulations, suppliers have been left scrambling for the proper thermal management solutions.
A new concept to help overcome these challenges for thermal management system designers is utilizing powder metallurgy for thermal management components. Powder metallurgy's flexible material systems, net shape processing and lightweight design options meet many requirements designers face. By leveraging powder metallurgy, suppliers can provide solutions for emerging applications with increased thermal conductivity and assembly reductions.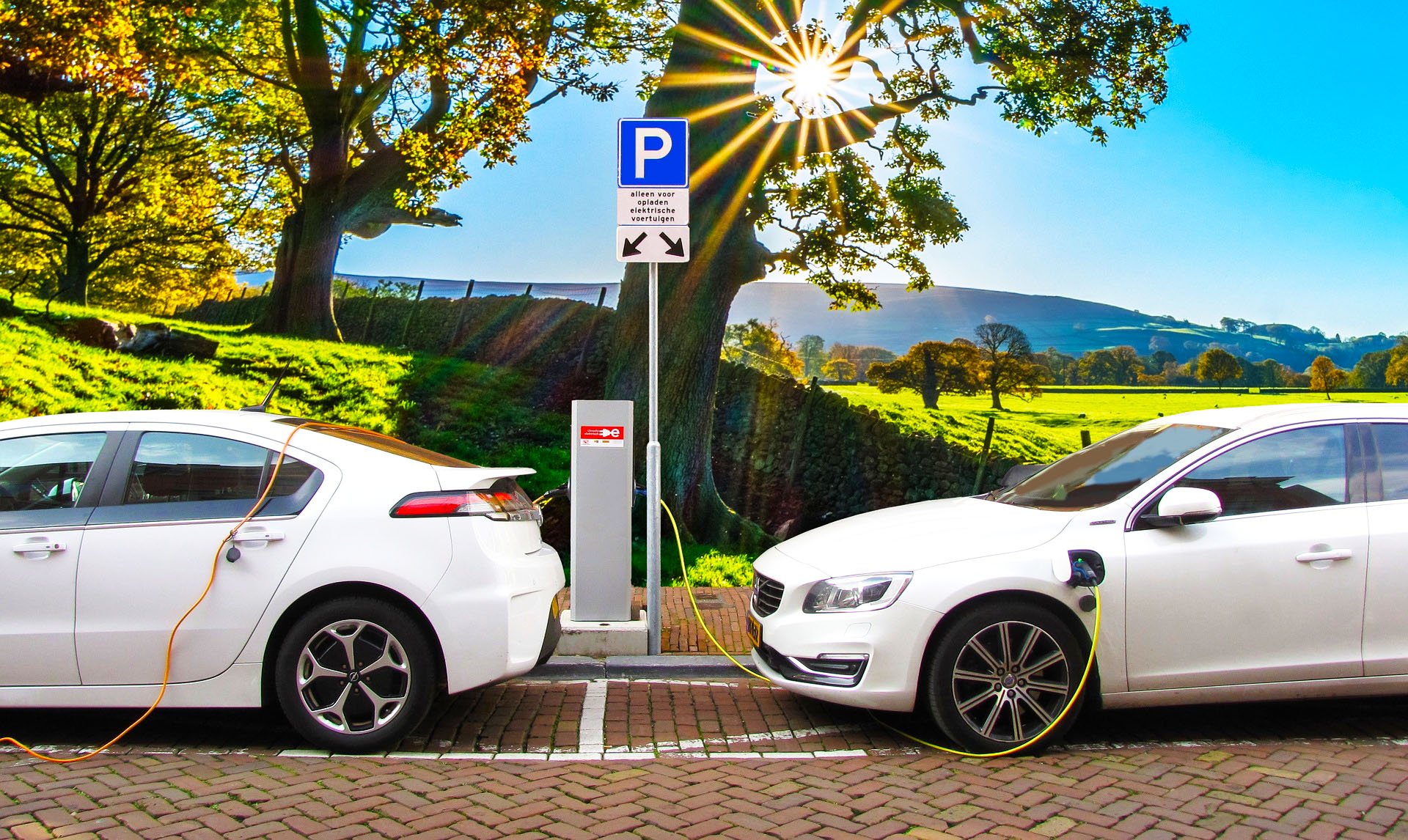 GKN Sinter Metals' leading position in the automotive industry is driving growth opportunities for powder metal in thermal management systems. From our engineers to yours, here are three ways powder metallurgy can support thermal management systems:
1. Simplified designs at a lower cost
A majority of powder metal products start as conversions from competing technologies. Castings are seen as a conventional solution in thermal management applications, but poor thermal conductivity and built-in process limitations often involve expensive finishing such as machining and assembly.
A conversion to powder metal can streamline production without compromising functionality and, in turn, lower overall assembly costs. By simplifying a product's shape and design through substantial engineering expertise, the PM process typically requires little to no machining. Collaborating with customers, GKN Sinter Metals has identified opportunities to convert die cast components to powder metal and eliminate machining requirements.
Do you know where to start when converting your application to PM? It all comes down to finding the right team of dedicated engineers to support your application challenges. Read this case study to see how GKN Sinter Metals' team identified conversion opportunities to optimize component design and reduce operations.
2. Competitive advantage in thermal conductivity
Custom thermal management systems have two integral functions: rapidly draw heat away from sensitive components (thermal conduction) and then dissipate that heat to the surrounding environment. One simple method for improving thermal conduction is using materials with higher thermal conductivity. Controlling heat dissipation requires the function of design optimization, material optimization and manufacturing flexibility. GKN Sinter Metals has engineered a novel aluminum alloy, TC2000, to be 99.9 percent free of residual porosity through selective liquid phase sintering.
Compared to conventional casting, GKN's TC2000 offers advantages in both key areas: up to double the thermal conductivity and unique design flexibility. This allows for mass and volume reduction within systems where space is often constrained by densely-packed electronics.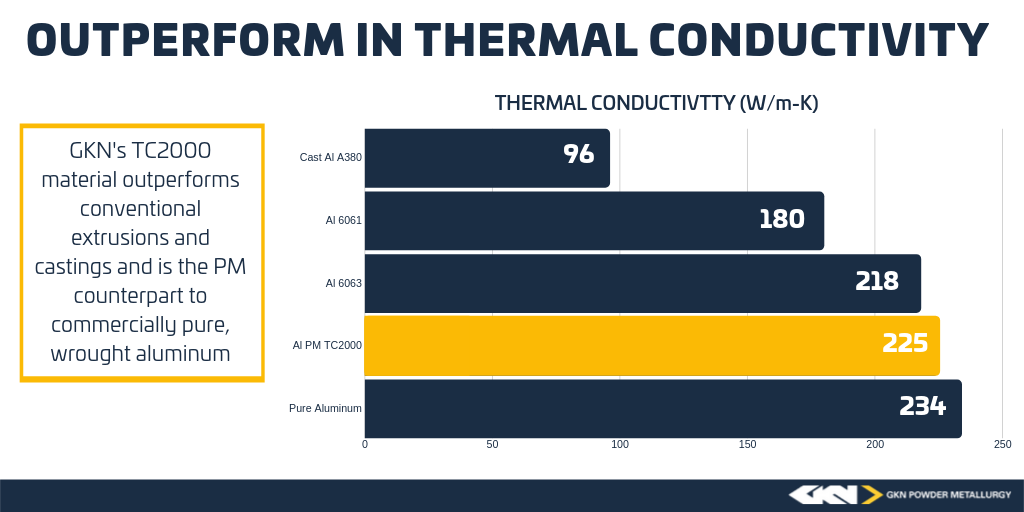 By starting with pure metal constituents and limiting solute impurities, the TC2000 material is competitive with high-end extrusions and forgings. This aluminum alloy is the optimal solution for high production volumes and reliable performance. You can read more on our revolutionary lightweight aluminum solutions here.
3. Material flexibility and application optimization
As technology in integrated circuits and power electronics advances, thermal management plays an increasingly pivotal role in improving efficiency and ensuring safe operations. This creates a high demand for more advanced materials that require a myriad of attributes such as formability, corrosion resistance, conductivity and the ability to match the thermal expansion of mating materials in an assembly. Solutions to these are often prohibitively expensive and poorly-suited for high volume manufacturing.
GKN Sinter Metal's longstanding aluminum PM development in structural applications has now shifted toward vehicle electrification. The team now looks to leverage the unique benefits of powder metallurgy processing to design new material solutions in the field of thermal management.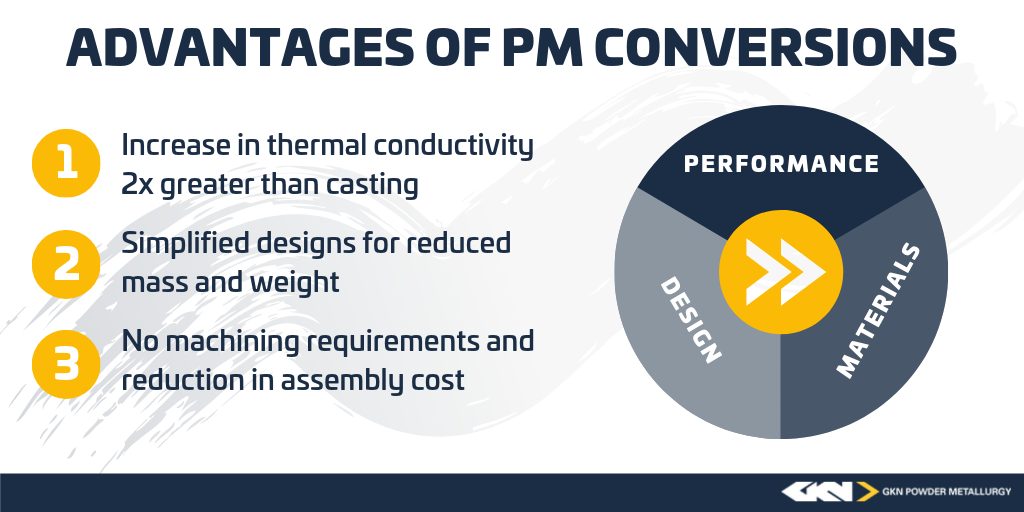 Research and development efforts driven by customer demand are focused on producing unique materials that are typically not possible through conventional manufacturing. One area GKN Sinter Metals is exploring is producing multi-material components with chemistry and properties similar to high strength wrought materials.
Today's requirements for thermal management solutions demands a supplier with creative problem-solving methods. Advancements in metal additive manufacturing introduce novel solutions for conversions and development efficiency. Fully integrated into the metal AM industry, GKN's diverse team offers design optimization support and the ability to create small batch prototypes to ensure accuracy. You can read our insights on how metal AM is transforming automotive manufacturing here.
Do you think powder metal has the potential to change the way you're designing for the electrified vehicle shift? Let's chat.